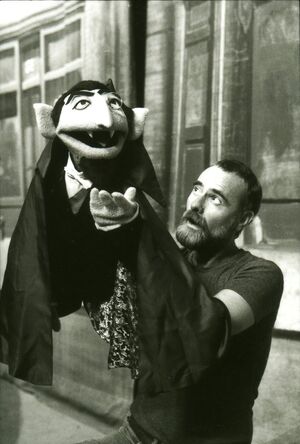 "I feel blessed to have worked on something that has become such an icon of the times. I've certainly always thought I've been really lucky in that respect. I enjoy singing and I get to sing a lot. I get to be in a band (the Electric Mayhem) without really being in a band. All of those things make me say, 'Well, that's one blessing. That's another blessing.
" - Jerry Nelson
Jerry Nelson died at his Massachusetts home on Cape Cod, of complications from the various cancers and respiratory diseases from which he suffered in his final years. He had suffered from emphysema for years. He was survived by his second wife, Jan.
Nelson was born in Tulsa, Oklahoma and raised in Washington, D.C. He began puppeteering for Bil Baird. His first job with the Muppets was The Jimmy Dean Show in 1965. Frank Oz was going to take some time off from puppeteering, so Nelson was hired to perform Rowlf the Dog's right hand in his stead.
After The Jimmy Dean Show ended, Nelson continued to perform Rowlf's right hand with the Dean show on its live tour. At the conclusion of the tour, Frank Oz rejoined the company. Jerry continued working with The Muppets, performing in variety shows and commercials until in 1966. The amount of work was somewhat reduced, so Jim Henson had to release Nelson. Following this, Nelson puppeteered in a number of projects in the late 1960s.
After learning that the Muppets were used on Sesame Street, he rejoined Henson and Oz as a puppeteer, beginning in the second season. He received a number of his major characters early in the show's run, including the Sherlock Holmes parody Sherlock Hemlock (1970–1995, 2010),
a hapless magician named The Amazing Mumford (1971–2012),
and the overly strong, but sensitive Herry Monster (1970–2012).

His most famous character is the arithmomaniac vampire Count von Count (1972–2012).
He was also the first puppeteer to perform Mr. Snuffleupagus, keeping the role from 1971 to 1978.

Herbert Birdsfoot (1970–1973),

Grover's customer Mr. Johnson (1971–2012),

Nelson also performed many characters on The Muppet Show, including Sgt. Floyd Pepper (the bassist of the Electric Mayhem band),

Pigs in Space star Dr. Julius Strangepork,

Nelson performed the puppet and voice of Emmet in Emmet Otter's Jug-Band Christmas, and one-hour special that originally aired on HBO.

He later performed the signature song from that show, "When the River Meets the Sea," as Robin in a duet with John Denver for a Muppet Christmas special. That version of the song gets frequent radio airplay during the Christmas season (although the song is not seasonal).
On Fraggle Rock he performed Gobo Fraggle, Pa Gorg and Marjory the Trash Heap. Frank Oz did not perform on Fraggle Rock, and Jim Henson and Richard Hunt limited their time on the show, so they performed supporting characters. For this reason, Nelson was asked to perform Gobo, the central role on the show.
Nelson's characters were often singers or musicians. He performed the lead vocals for many songs as Floyd of the Electric Mayhem, Little Jerry of Little Jerry and the Monotones, Slim Wilson of Lubbock Lou and his Jughuggers, and a number of Anything Muppet bands. Most of his main characters in all three shows sang songs at one time or another.
Jim Henson Memorial - Jim's Favorite Songs