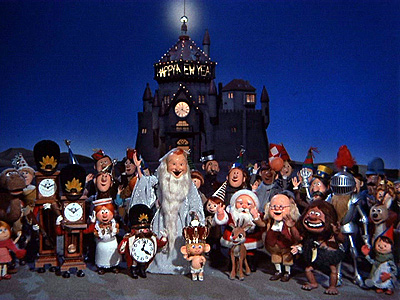 Here is a
"
HOLIDAY SOR-BAY
"
a
little spark of madness
that we could use to artificially maintain our Christmas spirit.
Rudolph has just come back from delivering Christmas presents with Santa Claus when he is asked by Father Time to find the missing Baby New Yearbefore midnight on New Year's Eve. The baby, named Happy, ran away because everyone laughed at his large ears, although no one meant it in a cruel way.
Unless Happy is returned before December 31 to take his position as the new year, the current year will not end and the date will perpetually remain December 31 forever. If this happens, the evil buzzard named Aeon will rule the world forever.
Today in Television History
December 31, 1985
Rick Nelson is killed in a plane crash. Nelson got his start by starring in his parents' TV series, The Adventures of Ozzie and Harriet
.
Nelson was born in 1940 to famous parents: His father, Ozzie Nelson, was a bandleader, and his mother, Harriet, was a singer and actress. When Ricky was four years old, his parents launched their radio series, playing themselves, with actors playing their young sons. Five years later, Ricky and his older brother, David, suggested that they, like their parents, play themselves on the series. In 1952, the series moved to TV.
Nelson attended Hollywood High School and showed little interest in music until his girlfriend raved to him about Elvis. He boasted that he was about to cut a record himself. His father let him cut a demo with his orchestra; Nelson claimed he chose to cover Fats Domino's "I'm Walkin'" because it relied heavily on the two guitar chords Nelson knew how to play.
When Nelson played the song on the TV series, he became an overnight sensation. His first album, released in November 1957, topped the Billboard charts, and Nelson became one of the best-selling male singers of the 1950s, with 53 Hot 100 hits, 17 in the Top 10. Nelson later changed his name from Ricky to Rick. He also appeared in several movies, including Rio Bravo with John Wayne and Dean Martin in 1959 and The Wackiest Ship in the Army in 1960.
After Ozzie and Harriet went off the air in 1966, Nelson's music career fizzled until he discovered the emerging style of country rock. On two albums, he covered country material and scored a few hits in the late 1960s and early 1970s. Although he would never be a superstar again, he continued touring aggressively, performing more than 200 nights a year. He put together a new band in 1985 and signed a new record deal, but on December 31, en route to a concert in Texas, he died in a plane crash at age 45. The last song he performed live was a cover of "Rave On" by Buddy Holly, who also died in a plane crash.
Stay Tuned and
Happy New Year
Tony Figueroa