My idea of acting is based on what Spencer Tracy taught me. I saw him sitting on a bench at MGM. I walked up and said, "Acting?" He said, "Acting. Learn the lyrics and don't bump into the furniture."
Richard Norman Anderson
August 8, 1926 – August 31, 2017
Richard Anderson died today in Beverly Hills at the age of 91.
On the big screen, his many films included
The Student Prince
as Lucas (1954),
Forbidden Planet
(1956), as Chief Engineer Quinn, and the World War I drama
Paths of Glory
(1957) directed by
Stanley Kubrick
, in which Anderson played the prosecuting attorney. He was Don Diego De La Vega's joke-playing best friend and romantic rival, Ricardo Del Amo, on the Disney television series
Zorro
(1958-1959). He was the object of the unrequited love of Clara Varner (
Joanne Woodward
) in
The Long, Hot Summer
(1958) and a suspicious military officer in
Seven Days in May
(1964).
In the 1960s, Anderson made appearances in 23 episodes of
Perry Mason
during the series' final season as Police Lieutenant Steve Drumm, replacing the character of Lt. Tragg, played by
Ray Collins
who died in 1965. Before he became a
Perry Mason
regular, he made guest appearances in two 1964 episodes: as defendant Edward Lewis in "The Case of the Accosted Accountant", and Jason Foster in "The Case of the Paper Bullets".
Richard Anderson in an episode of The Rifleman
He also appeared on
The Untouchables
,
Stagecoach West
,
The Rifleman
,
Daniel Boone
,
Thriller
,
The Eleventh Hour
,
Redigo
,
Combat!
,
Twelve O'Clock High
,
I Spy
,
The Man from U.N.C.L.E.
,
The Fugitive
(as brother-in-law to the protagonist Dr.
Richard Kimble
),
Bonanza
,
The Green Hornet
,
The Invaders
, and
The Big Valley
. In 1961–62, Anderson co-starred with
Marilyn Maxwell
in an
ABC
production of
Bus Stop
. He guest-starred in the last episode of season 1 of
Mission: Impossible
(1966) as Judge Wilson Chase.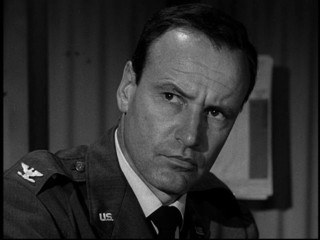 Richard Anderson in an episode of

The Fugitive
In 1965, he played Judge Lander, who clashes over courtroom fairness and frontier justice with a young woman, Kate Melville (
Gloria Talbott
), the daughter of a sheriff, Will Melville (
Dick Foran
), in the episode "Kate Melville and the Law" of the syndicated series,
Death Valley Days
.
Anderson first appeared as Oscar Goldman in episode 2 ("Wine, Women, and War") of The Six Million Dollar Man in 1974. He would portray the character through the series' end in 1978 as well as on the spinoff series The Bionic Woman for its entire run from 1976 to 1978.
He appeared in the television movie,
The Night Strangler
as the villain, Dr. Richard Malcolm. Anderson was just as busy in the 1980s on
Charlie's Angels
,
Matt Houston
,
Knight Rider
,
Remington Steele
,
Cover Up
,
The A-Team
,
The Fall Guy
,
Simon & Simon
, and
Murder, She Wrote
. In 1985, he played murderer Ken Braddock in the first two-hour episode of
Perry Mason
, starring
Raymond Burr
, titled "Perry Mason Returns". Anderson had a recurring role as Senator
Buck Fallmont
on
Dynasty
from 1986 to 1987. He portrayed President
Lyndon B. Johnson
in the 1987
miniseries
,
Hoover vs. The Kennedys
.
In 2007, Anderson was honored with a Golden Palm Star on the
Palm Springs Walk of Stars
.
Good Night Pal
Stay Tuned
Tony Figueroa