I spent twenty years here before I got anything going, and from that I got lucky. It takes a lot of luck in show business too. You've just got to be lucky and in the right place at the right time
Albert Francis
"
Al
"
Molinaro
June 24, 1919 – October 30, 2015
Al Molinaro died in a Glendale, California, hospital today, at the age of 96. He is survived by his wife Betty and son Michael, who said his father's death was the result of complications from an infected gall bladder.
Al M
olinaro was born in
Kenosha, Wisconsin
, the son of Italian immigrants Rafaele and Teresa Molinaro.
Molinaro moved to California in the early 1950s and worked odd jobs, finally saving enough money to start his own collection agency. He eventually sold his business and became interested in southern California real estate speculation. His investments paid off when one of his properties was purchased by a conglomerate which used the land to build one of the largest retail shopping malls of its day.
As a result, Molinaro was already financially independent when he decided to pursue his longtime dream of being an actor.
Molinaro took an improvisation class, in which
Penny Marshall
was one of the other students. In 1970, she introduced him to her brother, producer
Garry Marshall
, who offered Molinaro the role of police officer Murray Greshler on the TV
sitcom
The Odd Couple
, which aired until 1975.
The following year, Molinaro was then hired by Garry Marshall to replace
Pat Morita
on another sitcom he produced,
Happy Days
. Molinaro's character was
Al Delvecchio
, the owner of Arnold's malt shop. He left the show in 1982, but then was tapped by Garry Marshall again to play the Al Delvecchio role on the short-lived
Happy Days
spin-off,
Joanie Loves Chachi
, starring
Scott Baio
and
Erin Moran
.
He revealed in 1990 that he declined acting roles in movies offered to him by Garry Marshall. Molinaro said at the time, "I can't work in movies with Garry because I'm so square that I won't be in a movie that has four-letter words in it. . . . That puts me pretty much totally out of films these days. . . . You get to a point where you don't want to do just anything for the career. You gotta live with yourself".
In 1992, at age 73, he retired from acting in film and television but continued to appear in TV commercials until the early 2000s. He appeared in 42 On-Cor commercials between 1987 and 2003.
Molinaro appeared in
Weezer
's music video for the 1994 song "
Buddy Holly
", which was set in Arnold's diner. He introduced the band as "Kenosha, Wisconsin's own Weezer."
In 2004, Molinaro announced plans to write a book about his childhood in Kenosha and his acting experiences. In 2005, he did not appear in the Happy Days Reunion which aired on ABC.
Molinaro was a frequent guest on the
Don and Mike Show
, a nationally syndicated radio show that aired from 1985 to 2008.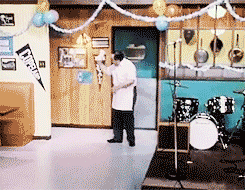 Good Night Al
Don't forget to lock up.
Stay Tuned
Tony Figueroa