Last week I mentioned in
CHILD OF TELEVISION: The 2006 TV Land Awards.
that, "For me the highlight this year was
José Feliciano
performing the theme to
Chico and the Man
." Since then I have heard from fans of
Chico and the Man
expressing their love for the show. But I am amazed that now there is a whole generation of people now who had never heard of the show. If I asked this same generation, "Who is
Freddie Prinze
?" the answer I'd get is, "Freddie Prinze Jr's father?" Although that's the correct answer, I tend to get the answer in the form of a question.
I remember in the fall of 1974 NBC premiered a new show that followed
Sanford and Son
. The show was called
Chico and the Man
. It stared
Jack Albertson
and "Introducing" Freddie Prinze. The show was set was a broken down garage in the barrio of East Los Angeles. The garage was owned by, The Man, a cranky old bigot named Ed Brown (Albertson). Ed liked yelling as his customers and neighbors who were mostly Mexican. Enter Chico Rodriguez (Prinze) a young Chicano, Vietnam vet who comes to Ed's garage looking for a job. In the first few minutes Freddie Prinze steals the show. I was blown away by his performance and thrilled to see a fellow Puerto Rican on TV. (Freddie Prinze actually was of Puerto Rican and Hungarian decent. He referred to himself as "Hungarican". I am of Puerto Rican and Swedish decent, making me a "Swedearican".)
Over the first three seasons, the relationship between Ed and Chico went from adversarial to partners to father and son. Here is my historical television perspective. If Norman Lear opened the door to a new type of television comedy with
All in the Family
, Chico and the Man was one of the first shows that was not produced by Norman Lear to go through that door (The show was created and produced by James Komack). The show did face some controversy since few Mexican-Americans were actually involved in the production. Freddie Prinze and Jose Feliciano were Puerto Rican. The name "Chico" was considered a derogatory nickname to Chicanos. Chico's catch phrase "That's not my job" (Used in Freddie Prinze's his stand up act) was seen as perpetuating the lazy Hispanic stereotype. The catch phrase was later changed to "Looking Good". On January 28, 1977 Freddie Prinze took his life. The show did go on and it was explained that Chico went to work for his father. In the fall of 1977 the show returned with a new Chico (Whose character's real name was Raul Garcia) played by twelve-year-old, Gabriel Melgar. Coincidentally this was the same time that Fonzie
jumped the shark
on
Happy Days
.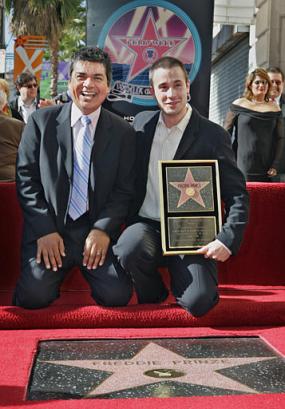 There are many shows that I grew up with that are being shown to a whole new generation on channels like TV Land. I wish that
Chico and the Man
was one of them. There are many stars that left us way too early who are getting fans who were not born when they were alive, thus giving them immortality. I want Freddie Prinze to be one of them and thanks to people like George Lopez, Jay Leno and Freddie Prinze Jr that might be possible.
To quote the Theme Song Lyrics,
Chico, don't be discouraged, The Man he ain't so hard to understand.Chico, if you try now,I know that you can lend a helping hand.
Because there's good in everyone And a new day has begunYou can see the morning sun if you try.
And I know, things will be betterOh yes they will for Chico and the ManYes they will for Chico and the Man.

Stay Tuned
Tony Figueroa