Listen to me TONIGHT on
TV CONFIDENTIAL with Ed Robertson and Frankie Montiforte
Broadcast LIVE every other Monday at 10pm ET, 7pm PT on
Shokus Internet Radio
. The program will then be repeated Tuesday through Sunday at the same time (10pm ET, 7pm PT) on Shokus Radio for the next two weeks, and then will be posted on line at our archives page at
TVConfidential.net
.

As always, the further we go back in Hollywood history, the more that fact and legend become intertwined. It's hard to say where the truth really lies.
September 15, 1984

Bosom Buddies
starring Tom Hanks and Peter Scolari debuted.
An offbeat sitcom about two men disguising themselves as women, the show ran for four years and first brought Hanks to national attention.
Hanks studied acting in high school and played with a Shakespeare festival for three years. He appeared in a horror flick,
He Knows You're Alone
, in 1980,
Splash
in 1984, followed by a huge success with
Big
in 1988, for which he was nominated for an Oscar. His career took off again with
Sleepless in Seattle
(1993); he is now considered one of the top box office draws alive. He won the Best Actor Oscar twice, for
Philadelphia
in 1993 and
Forrest Gump
in 1994.
Peter Scolari later workedon
Newhart
and
Honey, I Shrunk the Kids: The TV Show
.
Peter Falk was born September 16, 1927.
The actor is best known for his role as Lieutenant Columbo in the
television series
Columbo
. He appeared in numerous films and television guest roles, and has been nominated for an
Academy Award
twice, and won the
Emmy Award
on five occasions and the
Golden Globe award
once. The Columbo character was originally played in a 1960 episode of the NBC anthology series
The Chevy Mystery Show
, where the detective was played by
Bert Freed
, and in a subsequent Broadway play by
Thomas Mitchell
. Falk first appeared as Columbo in
Prescription: Murder
, a 1968 TV movie, but the character was not the subject of a show of its own until 1971.
Columbo
aired regularly from 1971 to 1978 on NBC, and then more infrequently on ABC as TV movies beginning in 1989. The most recent episode was broadcast in 2003.
Despite his frazzled exterior, Columbo possesses a keen mind and invariably solves his cases by paying close attention to tiny inconsistencies in suspects' stories, hounding them until they confess; he merely puts on a good show of being dimwitted so that the criminals will be more at ease around him. Columbo's signature technique is to exit the scene of an interview, only to stop in the doorway to ask a suspect "just one more thing," which often brings to light the key inconsistency.

September 16, 1949
Warner. Bros. introduces the Road Runner in the cartoon short Fast and Furry-ous. Like the sounds of countless other Warner Bros. cartoon characters, the Road Runner's cheerful "beep, beep!" was provided by Mel Blanc.


September 17, 1950
Comedians Dean Martin and Jerry Lewis make their first appearance as hosts of a new TV variety show, The Colgate Comedy Hour.

Martin and Lewis first teamed up in 1946. Martin, born in Steubenville, Ohio, in 1917, had started a nightclub act after working as a prizefighter and a steelworker in the 1940s. Lewis, the son of performers, debuted in comedy acts with his parents at age five and was working steadily as a comic by 1946, when he met Martin. The pair performed an act in which screwball Lewis constantly interrupted straight man Martin's singing. They made their first appearance at a club in Atlantic City and were an instant hit, soon in demand for radio and movie performances. They made their first movie together, My Friend Irma, in 1949. The following year, they were chosen, along with Eddie Cantor and Fred Allen, to share the host position for The Colgate Comedy Hour. The show ran until 1955, a year before Martin and Lewis split up.

After the duo parted ways, Martin launched his own TV variety show, which ran from 1965 to 1974. In the late 1950s and early 1960s, Martin teamed up with Frank Sinatra, Sammy Davis, Jr., Peter Lawford, and Joey Bishop to perform in Las Vegas. The group quickly became known as the Rat Pack, a suave group of young, fast-living entertainers. The group made several movies together in the early 1960s, including Ocean's Eleven (1960), Sergeants Three (1962), and Robin and the Seven Hoods. Dean Martin died in 1995.
Jerry Lewis went on to sign one of the most lucrative film contracts of the day, a $10 million deal for 14 films with Paramount. Lewis' films, including Cinderfella (1960) and The Nutty Professor (1963), failed to attract much praise from American critics but made him a star in France, where he has long been considered a comic genius. After a long absence from film, he gave an acclaimed performance in the 1986 film The King of Comedy, co-starring Robert De Niro.


Cassandra Peterson is born
September 17
,
1951
.
The actress s best known for her on-screen horror hostess character
Elvira, Mistress of the Dark
.
She gained fame on
Los Angeles
television station
KHJ
wearing a black,
gothic
,
cleavage
-enhancing gown as host of Movie Macabre, a weekly
horror movie
presentation. Her wickedly vampish appearance was offset by her comical character, quirky/quick-witted personality, and
valley girl
-type speech.
Jonathan Southworth "John" Ritter was born September 17, 1948.
Best known for playing
Jack Tripper
in the
ABC
sitcom
Three's Company
. Ritter was born and raised in
Burbank, California
, the son of
Dorothy Fay
(
née
Southworth), an actress, and singing-cowboy/matinee-star
Tex Ritter
. He attended
Hollywood High School
, where he was Student Body President. He went on to the
University of Southern California
, where he was a member of the
Phi Gamma Delta
(FIJI) fraternity, majored in
psychology
and minored in
architecture
.
On
September 11
,
2003
, Ritter felt ill while rehearsing scenes for a season 2 episode of
8 Simple Rules for Dating My Teenage Daughter
.
He was taken across the street to
Providence Saint Joseph Medical Center
, where he died later that day. The cause of his death was an
aortic dissection
caused by a previously undiagnosed
congenital heart defect
.
His father
had died of a
heart attack
almost thirty years earlier. Years later Ritter's wife testified in court that he had concerns for his own health because of the cause of his father's death. He was buried at
Forest Lawn, Hollywood Hills Cemetery
in
Los Angeles
.
September 17, 1965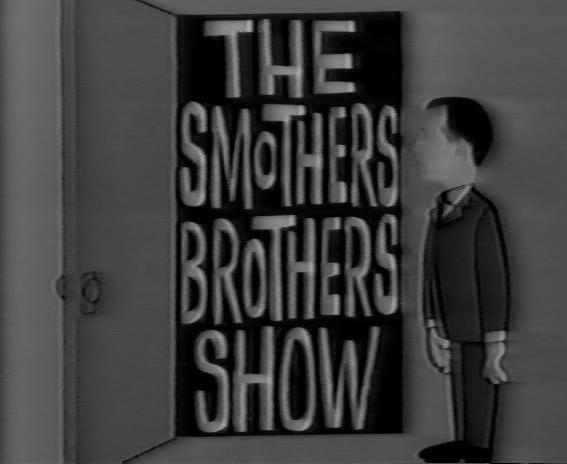 The Smothers Brothers Show, the first TV series featuring comedians Tom and Dick Smothers, debuts.
The sitcom featured elder brother Dick as a publishing executive pestered by the ghost of his brother, Tom. The show lasted only one season. However, the brothers were back in 1967 with their comedy variety show
The Smothers Brothers Comedy Hour,
which became the most popular show on television during its two-year run. CBS abruptly cancelled the show at the height of its popularity after a series of censorship disputes with the brothers.
June Foray born September 18, 1917
.
The
voice actress
, best known as the voice of many popular
animated
characters (particularly
Rocky the Flying Squirrel
,
Cindy Lou Who
and
Granny
). Her long and prolific career has encompassed radio, theatrical shorts, feature films, television, record albums (particularly with
Stan Freberg
), video games, talking toys and other media. Foray was also one of the founding members of
ASIFA-Hollywood
, the society devoted to promoting and encouraging animation.

September 18, 1955

Ed Sullivan's popular talk show, originally called Toast of the Town, changes its name to The Ed Sullivan Show.
Sullivan was so closely identified with the show, which first aired in 1948, that most Americans already called the program "Ed Sullivan." Among the many celebrities who made their TV debut on the show were Bob Hope, Lena Horne, the Beatles, and Walt Disney. Elvis also made several high-profile appearances, in 1956 and 1957. CBS cancelled the program in 1971.
William James "Bill" Murray is born September 21, 1950.
The
Academy Award
nominated
comedian
and
actor
gained national exposure on
Saturday Night Live
, and went on to star in films including
Caddyshack
,
Ghostbusters
,
Groundhog Day
,
Lost in Translation
, and
The Life Aquatic with Steve Zissou
.
To quote the Bicentennial Minute, "And that's the way it was".
Stay Tuned
Tony Figueroa