Listen to me on
TV CONFIDENTIAL with Ed Robertson and Frankie Montiforte
Broadcast LIVE every other Monday at 10pm ET, 7pm PT on
Shokus Internet Radio
. The program will then be repeated Tuesday thru Sunday at the same time (10pm ET, 7pm PT) on Shokus Radio for the next two weeks, and then will be posted on line at our archives page at
TVConfidential.net
.

As always, the further we go back in Hollywood history, the more that fact and legend become intertwined. It's hard to say where the truth really lies.
November 10, 1969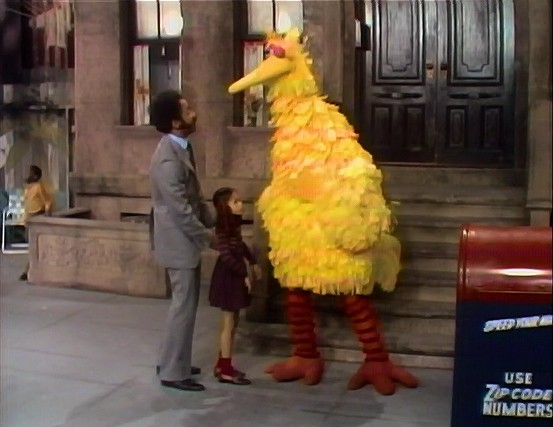 Sesame Street premiered on November 10
, 1969, and is the longest running children's program on television. The show is produced by the non-profit organization
Sesame Workshop
, formerly known as the
Children's Television Workshop
(CTW), founded by
Joan Ganz Cooney
and
Ralph Rogers
.
As a result of its extensive influence,
Sesame Street
is one of the most highly regarded, and most watched, educational shows for children in the world. The original series has been televised in more than 120 countries, and 25 independent versions have been produced. The show has been called "perhaps the most vigorously researched, vetted, and fretted-over program". As of 2009, the series has received 118
Emmy Awards
, more than any other television series. An estimated 77 million Americans watched the series as children.
Sesame Street
uses a combination of animation, puppets, and live actors to stimulate young children's minds, improve their letter and word recognition, basic
arithmetic
, geometric forms, classification, simple problem solving, and socialization by showing children or people in their everyday lives. Since the show's inception, other instructional goals have been basic life skills, such as how to cross the street safely, proper hygiene, healthy eating habits, and social skills; in addition, real-world situations are taught, such as
death
,
divorce
,
pregnancy
and birth, adoption, and even all of the human emotions such as happiness, love, anger, and hatred. Also, recently, the
Sesame Street
Muppets discussed the
late-2000s recession
with their latest prime-time special Families Stand Together: Feeling Secure in Tough Times.
The series has made many published lists, including greatest all-time show compilations by
TV Guide
and
Entertainment Weekly
. A 1996 survey found that 95% of American preschoolers have watched the show by the time they are three years old.
Sesame Street will celebrate its 40th anniversary and will include a segment with First Lady
Michelle Obama
interacting with the Muppets.
Jon Stone was responsible for hiring the first cast of Sesame Street. He did not audition actors until Spring 1969, a few weeks before the five test shows were due to be filmed. He videotaped the auditions, and Ed Palmer took them out into the field to test children's reactions. The actors who received the "most enthusiastic thumbs up" were cast. For example,
Loretta Long
, was chosen to play
Susan
when the children who saw her audition stood up and sang along with her rendition of "
I'm a Little Teapot
". It was Stone's goal to cast white actors in the minority. As Stone said, casting was the only aspect of the show that was "just completely haphazard". Most of the cast and crew found jobs on Sesame Street through personal relationships with Stone and the other producers. Stone also hired
Bob McGrath
to play Bob,
Will Lee
to play Mr. Hooper, and
Matt Robinson
to play Gordon.
Sesame Street's cast became more diverse in the 1970s. The cast members who joined the show during this time were
Sonia Manzano
(Maria),
Northern Calloway
(David),
Emilio Delgado
(Luis),
Linda Bove
(Linda), and
Buffy Saint-Marie
(Buffy).
Roscoe Orman
succeeded
Matt Robinson
, the original
Gordon
, and Hal Miller, in 1975.
International co-productions
Some countries have co-produced their own unique versions of
Sesame Street
, in which the characters and segments represent their country's cultures. Other countries simply air a dubbed version of
Sesame Street
, or a dubbed version of
Open Sesame
. Among various other countries, Australia has and still does broadcast the American version on the ABC and the
UK
had broadcast the American show, on
Channel 4
until 2001 when it was replaced with Henson production
The Hoobs
.
Dubbed versions include Seesamtie in Finnish,
Boneka Sesame
in Indonesian,
Sesam Opnist Þú
in Icelandic,
Sezame otevři se
in Czech, Sesamo
Apriti
in Italian,
Sezame, otevři se
in Czech, and
Taman Sesame
in Malay. In 2004, one Japanese network cancelled the dubbed American
Sesame
, while another created a local version. In
New Zealand
, locally produced segments entitled "
Korero
Māori
" (in English: "let's speak Māori") were inserted into episodes to educate children in the
Māori language
. Likewise, in
Canada
the
Canadian Broadcasting Corporatio
n
substituted locally-produced
French language
segments in place of the
Spanish language
portions of the US version. Spanish program
La Cometa Blanca
also includes segments from
Sesame Street
.
Locally produced adaptations
of Sesame Street include:
1972:
Vila Sésamo
, Brazil
1972:
Plaza Sésamo
, Mexico
1973:
Sesamstraße
, Germany
1973: Canadian Sesame Street, Canada (reformatted as
Sesame Park
in the 1990s)
1976:
Sesamstraat
, Netherlands
1978:
1, rue Sesame
, France
1979:
Iftah Ya Simsim
,
Arab World
(in classical
Arabic
)
1979:
Barrio Sésamo
, Spain
1981:
Svenska Sesam
, Sweden
1983:
Rechov Sumsum
, Israel
1984:
Sesame!
(Batibot), Philippines
1986:
Susam Sokağı
, Turkey
1989:
Rua Sésamo
, Portugal
1991:
Sesam Stasjon
, Norway
1996:
Ulitsa Sezam
, Russia
1996:
Ulica Sezamkowa
, Poland
1998:
Rechov Sumsum
and
Shara'a Simsim
, Israel and Palestinian Territories
1998:
Zhima Jie
,
China
1999:
Sesame English
, China, Italy, Poland, Taiwan
2000:
Takalani Sesame
, South Africa
2000:
Alam Simsim
, Egypt (using the local dialect)
2002:
Play with Me Sesame
, United Kingdom
2003:
Open Sesame
, Australia
2004:
Koche Sesame
, Afghanistan
2004:
Sesame Street
, Japan
2005:
Sisimpur
, Bangladesh
2005:
5, Rue Sésame
, France
2005:
Sabai Sabai Sesame
, Cambodia
2006:
Galli Galli Sim Sim
, India
2007:
Jalan Sesama
Indonesia
2007:
Tar ag Spraoi Sesame
Republic of Ireland,
Irish language
dub of Play With Me Sesame
2008:
Sesame Tree
, Northern Ireland
2009:
Sesamgade
, Denmark
Note that dates solely refer to the year production on the series began.
See also:
List of characters from international versions of Sesame Street
November 12, 1990
Actress Eve Arden, best known for playing the title role in the radio and TV series Our Miss Brooks, dies at age 78.



Arden was born in Mill Valley, California, and began acting as a teenager. By age 22, she was appearing in the Ziegfeld Follies. She made two films under her birth name-Eunice Quedens-before her first picture as Eve Arden (Oh, Doctor! in 1937). She frequently played the kind-but-sarcastic girlfriend of the lead female role. Her films included No, No, Nanette (1940), Mildred Pierce (1945), and Anatomy of a Murder (1959). Her last film was Grease II (1982). She published an autobiography, The Three Phases of Eve, in 1985.
November 13, 1949Caryn Johnson, later known as Whoopi Goldberg, is born in New York City.

Goldberg began acting at age eight in children's theater productions. She dropped out of high school during her freshman year, later citing a learning disability that teachers mistook for retardation.
She began using drugs but later cleaned up and resumed her interest in acting. She married her substance abuse counselor and had a daughter. She started winning small roles in Broadway shows including Jesus Christ Superstar and Hair. Her marriage ended, and she moved with her daughter to California, where she began performing with improv groups in San Diego and San Francisco while earning money as a bank teller, makeup artist, and other odd jobs.
Goldberg launched a comedy act with comedian Don Victor but was soon performing a hit solo act called
Spook Show
. She toured the country with her comedy, eventually ending up on Broadway.
In 1985, three days after her 36th birthday, she made her movie debut in
The Color Purple
, also starring Oprah Winfrey and Danny Glover. She earned an Academy Award nomination for Best Actress. She later appeared in numerous comedies, including
Jumpin' Jack Flash
(1986), and won the Best Supporting Actress Oscar for her role as a psychic in
Ghost
(1990). Her 1993 comedy,
Sister Act
, was such a phenomenal hit that she earned $8 million for
Sister Act II
, which made her one of the industry's highest-paid actresses. She briefly had her own talk show and guest-starred regularly on
Star Trek: The Next Generation
. She has been married several times and has several grandchildren.
November 15, 1926
NBC radio network's grand opening
Radio network NBC debuts, celebrating its launch with one of the earliest remote musical broadcasts. The debut program featured nationally known bands playing at several different locations.
To quote the Bicentennial Minute, "And that's the way it was".
Stay Tuned
Tony Figueroa