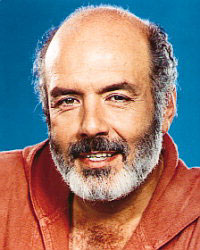 Pernell Roberts died of
pancreatic cancer
at his home in
Malibu, California
at the age of 81. Born Pernell Elvin Roberts on May 18, 1928 was best known for his roles as Ben Cartwright's eldest son, Adam Cartwright, on
Bonanza
from 1959 to 1965, and as chief surgeon, Dr. John MacIntyre, the title character on
Trapper John, M.D.
(1979-1986). He was also known for his
activism
, which included participation in the
Selma to Montgomery marches
in 1965, and pressuring
NBC
to refrain from hiring
whites
to portray minority characters.
In 1958, Roberts guest-starred as Captain Jacques Chavez on the
NBC
adventure series
Northwest Passage
based on the life of
Major Robert Rogers
in the
French and Indian War
. He appeared with fellow guest star
Fay Spain
in the 1958 episode "Pick up the Gun" of
Tombstone Territory
. In 1958 he played the lead villain in the 31st episode of
Have Gun - Will Travel
, portraying a killer boss exploiter of Chinese Coolie laborers entitled "Hey Boy's Revenge." The episode drew critical acclaim for shedding some light on the contribution of indentured Chinese workers in building the U.S. west and for also carrying a socially conscious message "white man's laws can deliver justice for a minority" a "Paladin Parable" so typical of the series. In 1959, he co-starred in the film
Ride Lonesome
.
He came to prominence playing Ben Cartwright's urbane eldest son, Adam, in the Western television series
Bonanza
. Despite the show's success, he left after the sixth season in 1965 due to disagreements with the writers and a desire to return to legitimate theatre. Among other complaints, Roberts argued that a 34-year-old, educated, Eastern-born man would not be calling his father "Pa". The writers tacitly agreed not to exceed three "Pa" references per episode.
I had six seasons of playing the eldest son on Bonanza. Six seasons of feeling like a damned idiot, going around -- me, like a middle-aged teenager, saying, "Yes, Pa," "No, Pa" on cue. It was downright disgusting -- such dialogue for a grown man. I felt I wasn't being taken seriously as an actor, and that's like death to one's talent...Stuck as Adam Cartwright, I was only able to use about one-tenth of my ability.
Pernell Roberts
He regained star status in the early 1980s while starring in the television series
Trapper John, M.D.
(1979-86). Roberts played the character almost twice as long as
Wayne Rogers
did (1972–1975) on the
CBS
M*A*S*H
series.
Roberts married four times. His first marriage was in 1951 to Vera Mowry, a professor at
Washington State University
, with whom he had his only child (Jonathan Christopher Roberts); they later divorced. He married Judith Anna LeBreque on October 15, 1962; they divorced in 1971. His third marriage was to Kara Knack, whom he married in 1972; they divorced in 1996. He was married to Eleanor Criswell at the time of his death. Jonathan Roberts died in a motorcycle accident in 1989 at age 38.
Good Night Mr. Roberts


Stay Tuned


Tony Figueroa