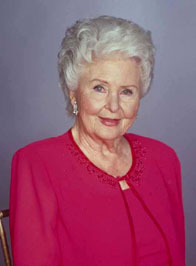 Frances Reid died yesterday at the age of 95.
CHILD OF TELEVISION: Happy Anniversary Days of our Lives
Reid portrayed matriarch
Alice Horton
on
Days of our Lives
since the show's premiere on November 8, 1965. Reid's 37-year long reign on DAYS seemingly ended when her character was controversially "killed" by the Salem Stalker in 2004, but thankfully it was all a hoax and Reid returned later that year.
In 1966 Reid appeared opposite
Rock Hudson
in the 1966
John Frankenheimer
drama
Seconds
. In the audio commentary for the
DVD
version of the film, Frankenheimer called Reid one of his favorite actresses.
To qoute Frances Reid on her real self breaking through her mild-mannered character Alice, "I don't think you should limit your vocabulary. And every now and then things come out as an expletive. I think it shocks our crew when I do it. They expect me to be...Alicey."

Good night Ms. Reid and thanks for the doughnuts.


Stay Tuned


Tony Figueroa