"Gilligan's Island ... I knew that by assembling seven different people and forcing them to live together, the show would have great philosophical implications."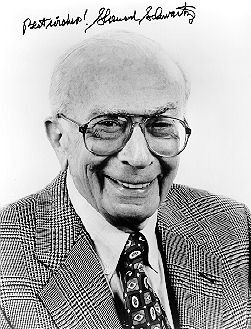 Today we lost Sherwood Schwartz. He died in his sleep of natural causes. Born Sherwood Charles
Schwartz in Passaic,
New Jersey to a Jewish family.

Schwartz's entertainment career came "by accident." He relocated from New York to southern California to pursue a master of science degree in biology. In need of employment, he began writing jokes for Bob Hope's radio program, for which Schwartz's brother, Al Schwartz, worked. Schwartz recalled that Hope "liked my jokes, used them on his show and got big laughs. Then he asked me to join his writing staff. I was faced with a major decision — writing comedy or starving to death while I cured those diseases. I made a quick career change."
He went on to write for Ozzie Nelson's The Adventures of Ozzie and Harriet and other radio
shows. He was a writer on the Armed Forces Radio Network.
He wrote for

Command Performance

,

Mail Call

,

Jubilee

and other Army shows, working with just about every major star in the entertainment world.
before he got his break in television.
In 1963, Sherwood created Gilligan's Island, a very successful C.B.S. comedy series based on the misadventures of a group of shipwrecked castaways who form a social microcosm in which various types of people have to learn to live together.
Gilligan's Island has become a TV cult classic, and continues as perhaps the most popular syndicated show in television, having been rerun more than any other series in TV history.
Gilligan's Island

fathered two animated series.

The New Adventure of Gilligan

and

Gilligan's Planet

; plus three two-hour TV movies. One of them,

Rescue From Gilligan's Island

ranks
among the highest rated TV films of all time.


It's About Time is an American fantasy/science-fiction comedy TV series that aired on CBS for one season of 26 episodes in 1966–1967.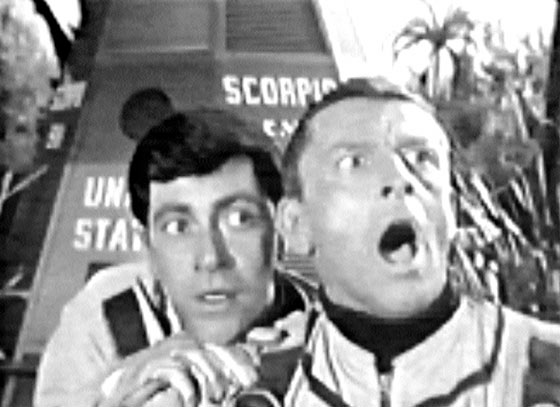 Two astronauts, Mac (Frank Aletter) and Hector (Jack Mullaney), travel faster than the speed of light, resulting in being sent back in time to prehistoric days. There, they have to adjust to living with a cave family led by Shad (Imogene Coca) and Gronk (Joe E. Ross). (In the pilot Coca's name was credited as Shag; when CBS censors realized that term meant to have sex in the current youth culture, they changed her name to 'Shad'.) Their children were 18-year-old Mlor (Mary Grace) and 12-year-old Breer (Pat Cardi). The chief of the tribe, Boss (Cliff Norton) and his right-hand man Clon (Mike Mazurki) were always suspicious of the astronauts.
During the first few weeks on the air, ratings were impressive, but soon plunged. Schwartz came to the conclusion that three factors were the cause of the decline in audience interest:
Repetition of the astronauts being in danger from dinosaurs, clubs, spears, volcanoes and cavemen.

An unattractive look to the show (i.e. caves, dirt streets, etc.)

The cave dwellers speaking a primitive form of English that was difficult to listen to.
For the aforementioned reasons, the series was retooled starting with the January 22, 1967 episode. Essentially reversing the premise which had been followed the first half of the season, the astronauts repair their space capsule and return to 1967, with Shad, Gronk, and their children in tow. The prehistoric family must begin adjusting to life in the 1960s, reacting to the unfamiliar surroundings, and setting up home in 20th-century New York City. For example, one episode had Gronk and Shad learning to write their names and signing them for many salesmen who brought "presents", which had to be paid for.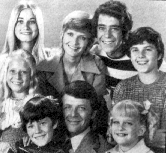 Schwartz also created The Brady Bunch, one of television's favorite shows. After a long successful run in prime time, it has also become a TV cult classic, with spectacular success in syndication.
The Brady Bunch inspired an animated series, The Brady Kids, and a two-hour TV movie, The Brady Girls Get Married, which Sherwood wrote and produced with his son, Lloyd J. Schwartz.
The Brady Bunch spawned the first translation of a TV series into a stage production, The Real Live Brady Bunch, which used the actual scripts from the TV series. The play first appeared in Chicago, then New York, Los Angeles, Australia, San Francisco, Toronto, Washington D.C. and completed a national tour of the U.S.
In 1988, Sherwood and Lloyd wrote and produced a two-hour TV film, A Very Brady Christmas, which aired in December 1988. It was the highest rated TV film of the year, and led to an hour long series called The Bradys, which aired on C.B.S. in 1990.
In 1994, Sherwood and Lloyd produced a feature film, The Brady Bunch Movie, for Paramount. It was critically acclaimed and was also a major hit at the box office, domestically as well as foreign. Sherwood and Lloyd co-produced a second theatrical film, A Very Brady Sequel which was released in July 1996.
He wrote the theme song for three of his shows: Gilligan's Island (co-wrote), It's About Time, a
nd The Brady Bunch.

Schwartz won the highest honor in television, the Emmy Award, from the Academy of Television Arts and Sciences, and the following year was nominated for another Emmy. His scripts, among other prizes, have the unique distinction of
receiving five consecutive
nominations for awards from the Writers Guild of America in three different categories; comedy, variety and play adaptation, receiving the award in the comedy category. He has received the "Lifetime Achievement Award" from DeWitt Clinton High School, and many other awards, among them the R.P. "Vision Award," and the "Spotlight Award" from the Beverly Hills Theatre Guild.


He is survived by his wife of 69 years, Mildred Schwartz and their four children
.

To Quote Sherwood Schwartz, "The critics say it's a bad show, but there ain't no critic who can climb into people's windows and turn off their sets."


Good Night Mr. Schwartz


We joined you each week my friend and we sure did get a smile.

Stat Tuned


Tony Figueroa