"When I started working, I didn't have a clue what I was doing, in that I was just wandering around, hoping that I could succeed. Then after I got a little under my belt, it took me about 25 years to feel like I knew what I was doing"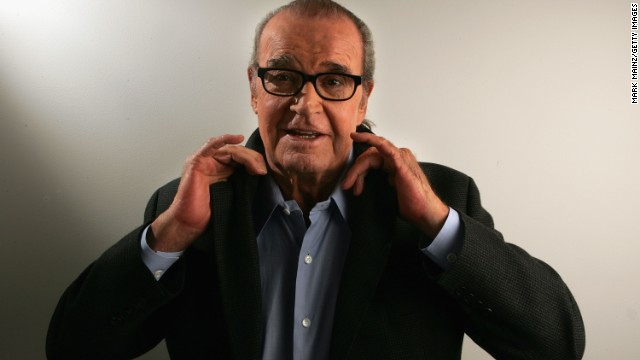 James Garner died yesterday. He was born James Scott Bumgarner on April 7, 1928. Garner was one of the first Hollywood actors to excel in both film and television. He starred in several television series spanning a career of more than five decades. These included his popular roles as Bret Maverick in the 1950s western-comedy series, Maverick, and Jim Rockford in the 1970s detective drama, The Rockford Files. He starred in more than fifty films, including The Great Escape (1963), Paddy Chayefsky's The Americanization of Emily (1964), Grand Prix (1966), Blake Edwards' Victor Victoria(1982), Murphy's Romance (1985), for which he received an Academy Award nomination, and The Notebook (2004).
Garner, the youngest of three children, was born in Norman, Oklahoma, the son of Mildred Scott (née Meek) and Weldon Warren Bumgarner, a carpet layer. His two older brothers were actor Jack Garner (1926–2011) and Charles Bumgarner, a school administrator who died in 1984. His family was Methodist. His mother, who was of part Cherokee descent, died when he was five years old. After their mother's death, Garner and his brothers were sent to live with relatives. Garner was reunited with his family in 1934, when Weldon remarried.
Garner grew to hate his stepmother, Wilma, who beat all three boys, especially young James. When he was fourteen, Garner finally had enough of his "wicked stepmother" and after a particularly heated battle, she left for good. James' brother Jack commented, "She was a damn no-good woman". Garner stated that his stepmother punished him by forcing him to wear a dress in public and that he finally engaged in a physical fight with her, knocking her down and choking her to keep her from killing him in retaliation. This incident ended the marriage.
Shortly after the breakup of the marriage, Weldon Bumgarner moved to Los Angeles, while Garner and his brothers remained in Norman. After working at several jobs he disliked, at sixteen Garner joined the United States Merchant Marine near the end of World War II. He fared well in the work and with shipmates, but suffered from chronic seasickness. At seventeen, he joined his father in Los Angeles and enrolled at Hollywood High School, where he was voted the most popular student. A high school gym teacher recommended him for a job modeling Jantzen bathing suits. It paid well,$25 an hour, but in his first interview for the Archives of American Television, he said he hated modeling and soon quit and returned to Norman. There, he played football and basketball, as well as competed on the track and golf teams, for Norman High School. He never graduated from high school, explaining in a 1976 Good Housekeeping magazine interview: "I was a terrible student and I never actually graduated from high school, but I got my diploma in the Army."
Later, he joined the National Guard serving seven months in the United States. He then went to Korea for 14 months in the Regular Army, serving in the 5th Regimental Combat Team in the Korean War. He was wounded twice, first in the face and hand from shrapnel fire from a mortar round, and second on April 23, 1951 in the buttocks from friendly fire from U.S. fighter jets as he dove headfirst into a foxhole. Garner was awarded the purple heart in Korea for the first injury. For the second wound, he received a second Purple Heart (eligibility requirement: "As the result of friendly fire while actively engaging the enemy"), although Garner received the medal in 1983, 32 years after his injury. Garner was a self-described "scrounger" for his company in Korea, a role he later played in The Great Escape and The Americanization of Emily.
He changed his last name from Bumgarner to Garner after the studio had credited him as "James Garner" without permission. He then legally changed it upon the birth of his first child, when he decided she had too many names.

His brother Jack also had an acting career and changed his surname to Garner, too. His non-actor brother, Charlie, kept the Bumgarner surname.
Garner was closely advised by financial adviser Irving Leonard, who also advised Clint Eastwood in the late 1950s and 1960s. After several feature film roles, including Sayonara with Marlon Brando, Garner got his big break playing the role of professional gambler Bret Maverick in the comedy Western series Maverick from 1957 to 1960. Garner was earlier considered for the lead role in another Warner Brothers Western series, Cheyenne, but that role went to Clint Walker because the casting director couldn't reach Garner in time (according to Garner's autobiography), and Garner wound up playing an Army officer in the pilot instead.
The show almost immediately made Garner a household name. Various actors had recurring roles as Maverick foils, including Efrem Zimbalist, Jr as "Dandy Jim Buckley," Richard Long as "Gentleman Jack Darby," Leo Gordon as "Big Mike McComb," and Diane Brewster as "Samantha Crawford" (Huggins' mother's maiden name) while the series veered effortlessly from comedy to adventure and back again. The relationship with Huggins, the creator and original producer of Maverick, would later pay dividends for Garner.
Garner was the lone star of Maverick for the first seven episodes but production demands forced the studio, Warner Brothers, to create a Maverick brother, Bart, played by Jack Kelly. This allowed two production units to film different story lines and episodes simultaneously. The series also featured popular cross-over episodes featuring both Maverick brothers, including the famous "Shady Deal at Sunny Acres", upon which the first half of the 1973 movie The Sting appears to be based, according to Roy Huggins' Archive of American Television interview. Garner and Clint Eastwood staged an epic fistfight in an episode entitled "Duel at Sundown", in which Eastwood plays a vicious gunslinger. Critics were positive about Garner and Jack Kelly's chemistry, but Garner quit the series in the third season because of a dispute with Warner Brothers.Only Garner and series creator Roy Huggins thought Maverick could compete with The Ed Sullivan Show and The Steve Allen Show. The show almost immediately made Garner a household name. Various actors had recurring roles as Maverick foils, including Efrem Zimbalist, Jr as "Dandy Jim Buckley," Richard Long as "Gentleman Jack Darby," Leo Gordon as "Big Mike McComb," and Diane Brewster as "Samantha Crawford" (Huggins' mother's maiden name) while the series veered effortlessly from comedy to adventure and back again. The relationship with Huggins, the creator and original producer of Maverick, would later pay dividends for Garner.
The studio attempted to replace Garner's character with a Maverick cousin who had lived in Britain long enough to pick up an English accent, played by Roger Moore, but Moore quit the series after filming only 14 episodes as Beau Maverick. Warner Brothers also dressed Robert Colbert, a Garner look-alike, in Bret Maverick's outfit and called the character Brent, but Brent Maverick did not have a chance to catch on with viewers since Colbert made only two episodes toward the end of the season, leaving the rest of the series run to Kelly (alternating with reruns of episodes with Garner).
When
Charlton Heston
turned down the lead role in
Darby's Rangers
before Garner's departure from
Maverick
, Garner was selected and performed well in the role. As a result of Garner's performance in
Darby's Rangers
, coupled with his
Maverick
popularity,
Warner Brothers
subsequently gave him lead roles in other films, such as
Up Periscope
and
Cash McCall
.
Jr.
as his father, a retired truck driver.
The show was created by
Roy Huggins
and
Stephen J.
Cannell
. Huggins had created the television show
Maverick
(1957–1962), which had also starred Garner, and he wanted to try to recapture that magic in a "modern day" detective
setting. He teamed with Cannell, who had written for
Jack Webb
productions such as
Adam-12
and
Chase
(1973–1974, NBC), to create
Rockford
.
The show was credited as "A Public Arts/Roy Huggins Production" along with
Universal Studios
and in association with Cherokee Productions. Cherokee was the name of Garner's company, which he ran with partners
Meta Rosenberg
and
Juanita Bartlett
, who doubled as story editor during most of
Rockford'
s run.
Jim Rockford's Yellow Pages ad at the Universal Studios Property Warehouse
The series theme by composers
Mike Post
and
Pete Carpenter
was released as a single and went to #10 on the
Billboard Hot 100
, remaining on the chart for 16 weeks. and won a
Grammy Award
for
Best Instrumental Arrangement
for 1975.
In 2002,
The Rockford Files
was ranked #39 on
TV Guide's 50 Greatest TV Shows of All Time
.
Producers Roy Huggins and Stephen J. Cannell devised
the main character to be a rather significant departure from typical television
detectives of the time, essentially
Maverick
as a modern detective. Rockford had served time in California's
San Quentin Prison
in the 1960s due to a wrongful conviction. After five years, he received a pardon. His infrequent
jobs as a private investigator barely allow him to maintain his dilapidated
mobile home
(which doubles as his office) in a parking lot on the beaches of
Malibu, California
.
The show's title sequence began with someone leaving a
message on Rockford's answering machine, which were still novel in 1974. A
different message was heard in each episode. These frequently had to do with
creditors to whom Rockford owed money, or deadbeat clients who owed money to
him. They were usually unrelated to the rest of the plot. As the series went
on, this gimmick became a burden for the show's writers, who had to come up
with a different joke every week. Rockford wears low-budget "off the rack" clothing and does his
best to avoid fights. He rarely carries his
Colt Detective Special
revolver, for which
he does not have a permit, preferring to talk his way out of trouble. He works
on
cold cases
, missing persons
investigations, and low-budget insurance scams, and he repeatedly states in the
series that he does not handle "open cases" to avoid trouble with the
police.
In early episodes of the show's first season, Rockford's trailer is located in a parking lot alongside the highway (address 2354 Pacific Coast Highway) and near the ocean; for the rest of the series, the trailer is at Paradise Cove (address 29 Cove Road), adjacent to a pier and a restaurant ("The Sand Castle", now known as the "Paradise Cove Beach Cafe").
In the series of television movies from 1994 to 1999, Rockford is still living in a trailer, but it has been extensively enlarged.
For his contribution to the film and television industry, Garner received a star on the
Hollywood Walk of Fame
(at 6927 Hollywood Boulevard). In 1990, he was inducted into the
Western Performers Hall of Fame
at the
National Cowboy and Western Heritage Museum
in
Oklahoma City, Oklahoma
. He was also inducted into the
Television Hall of Fame
that same year. In February 2005, he received the
Screen Actors Guild
's Lifetime Achievement Award. He was also nominated for Outstanding Performance by a Male Actor in a Supporting Role that year, for
The Notebook.
When Morgan Freeman won that prize for his work in
Million Dollar Baby
, he led the audience in a sing-along of the original
Maverick
theme song, written by
David Buttolph
and
Paul Francis Webster
. In 2010, the
Television Critics Association
gave Garner its annual Career Achievement Award.
On April 21, 2006, a 10-foot-tall (3.0 m) bronze statue of Garner as
Bret Maverick
was unveiled in Garner's hometown of
Norman, Oklahoma
, with Garner present at the ceremony.
Good Night Mr. Garner
Stay Tuned
Tony Figueroa