As always, the further we go back in Hollywood history, the more that fact and legend become intertwined. It's hard to say where the truth really lies.
August 25, 1949
NBC Radio debuted Father Knows Best. The show went to TV in 1954.
On the radio program, the character of Jim differs from the later television character. The radio Jim is far more sarcastic and shows he really rules over his family. Jim also calls his children names, something common on radio but lost in the TV series. For example, Jim says, "What a bunch of stupid children I have." Margaret is portrayed as a paragon of solid reason and patience, unless the plot calls for her to act a bit off. For example, in a Halloween episode, Margaret cannot understand how the table floats in the air, but that is a rare exception.
Betty, on radio, is portrayed as a status seeking, boy-crazy teenage girl. To her, every little thing is "the worst thing that could ever happen." Bud, on radio, is portrayed as an "all-American" boy who always seems to need "just a bit more" money, though he gets $1.25 per week (around $12.00 in 2013) in allowance. Bud is in charge of always having to answer the front door, which he hates. He is also shown as a somewhat dim boy who takes everything literally; for example, Jim might say "Go jump in the lake," to which Bud would reply "Okay, Dad; which lake should I go jump into?" He also uses the phrase "Holy Cow" to express displeasure. On radio, Kathy often is portrayed as a source of irritation. She whines, cries and complains about her status in the family as overlooked. She often is the source of money to her brother and sister, although she is in hock several years on her own allowance.
Radio Show: Father Knows Best

Click on the episode name below to listen for free online:
481220 Audition Show
500112 The Elusive Card Gam
500504 An Uncontrolled Dog
500511 The Golf Challenge
500518 Betty's Screen Test
500525 Superstitious Folk
500608 Time For A New Car
500615 Father's Day Trip
500622 A New Housekeeper
500629 New Arrangements
500907 An Efficient House
500914 Family Car Stolen
500921 Who Has The Time
500928 The New Girl Friend
501123 thanksgiving show
501221 christmas program
501228 party preparations
510201 ranch inheritance
510920 a discussion of die
520515 smooth household
520825 Father Knows Best
520911 watching the dog
520918 weekend activity
520925 Should Women Work
521009 Betty & The Crooner
521016 bud quits school
521030 a carnival in town
530115 the boy next door
530129 bud likes girls
530205 aunt thelma visits
530212 Babysitting Misiries
530212 Father Knows Best
530305 overdue vacation ra2
530312 to build a wall ra2
530416 Family Getaway
530423 Old Father Time
530430 Springtime Woes
530507 The Good Old Days
530514 Sophisticated Bud
530521 Paper Drive
530910 Remembering Names
530917 Big Inheritance
530924 Mind Your Manners
531001 A Date MixUp
531008 The Value Of Money
531015 Life Of The Party
531022 Too Many Peanuts
531029 Halloween Blues
531105 Moving To Chicago
531112 Betty's Engagement
531126 Thanksgiving
531203 Too Many Rabbirs
531231 Father Knows Best
54-01-28 Trash Can Lids
540107 takingpictures
540114 an unusual bet
540121 mink coat woes
540128 trash can lids
540204 The Telephone Mixup
540218 Betty's Freedom
540225 Check Writing
540304 Spring Cleaning
540311 False Elopement
540325 Rainy Day Activity
August 25, 1949
RCA announced the development of a compatible color TV system.
RCA first announced its compatible dot sequential system on August 25, 1949. The world's first compatible color broadcasts began in September on NBC's WNBW Channel 4 in Washington, D.C. Three tube, image orthicon live pickup cameras and flying spot slide pickup cameras were used in the Wardman Park Hotel studios. Cameras were developed at RCA Laboratories by Richard C. Webb.
The dot sequential color system involved high speed time-division multiplexing, whereby a sharp sampling commutator selected 2-MHz lowpass filtered red, blue, and green channels in turn. The sampling frequency was first 3.8 MHz, later changed to 3.6 MHz, and then refined to 3.583125 MHz. Initially, synchronization of the sampling frequencies between the transmitter and receiver was accomplished by varying the timing of the trailing edge of horizontal horizontal sync pulse in a manner to control sampling phasing and color dot interlace on a line-to-line basis. The instability of this method was later overcome by Al Bedford's suggestion that a reference burst of the color sampling frequency be transmitted during the rear porch of the horizontal sync waveform - a method later adopted for the later NTSC system, and which has served well for 47 years. Bedford's burst was on a dc pedestal above the blanking level. Video representing mixed highs (the 2-4 MHz high pass-filtered sum of the red, green, and blue channels - a concept also devised by Bedford), was added to the sampled sequence to complete the dot sequential signal.
RCA first demonstrated its system using a number of bulky three-tube projection receivers and "triniscope" direct view receivers (using 10-inch picture tubes with images combined by dichroic mirrors). One of these receivers had 108 tubes. Dr. George Brown, in his entertaining and informative autobiography, describes one triniscope receiver, using 16-inch CRTs, that was 6-feet tall, 6-feet deep, and 31-inches wide. (ref.16). Considering the bulk of these RCA receivers, it is understandable why the competing CBS color system with its large rotating color wheel was not immediately derided as impractical.
To reduce the complexity of these triniscope receivers, RCA built a number of receivers that operated using the theory of two-color primary reproduction. The images from two (orange and cyan) CRTs were combined by a dichroic mirror to achieve a limited color range that was not unacceptable to a public experienced with two-color motion pictures made between the 1920s and 1950s.
One of the three known surviving triniscope receivers was deposited with the UCLA Collection of Television Technology by the RCA Laboratories of Princeton, N.J. (arranged by Al Pinsky and Julie Maddocks). The model started in development in March 1950 and a quantity of ten was completed by May. This is the last of the series of triniscope models. Technical details of this triniscope model is contained in the RCA Laboratories Developmental Color Receivers page at this color television history site.
Shortly thereafter, RCA unveiled its 16-inch metal cone shadow mask color kinescope to the FCC and the press on March 29, 1950. After that time, all RCA receiver work concentrated on the development of shadow mask crt receivers. RCA Broadcast continued to refine the laboratory model studio equipment into producible live and film cameras.
August 25, 1958
Concentration aired for the first time.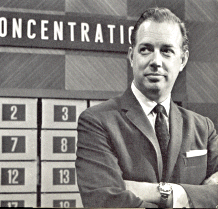 Concentration is an American television game show based on the children's memory game of the same name. Matching cards represented prizes that contestants could win. As matching pairs of cards were gradually removed from the board, it would slowly reveal elements of a rebus puzzle that contestants had to solve to win a match.
The show was broadcast on and off from 1958 to 1991, presented by various hosts, and has been made in several different versions. The original network daytime series, Concentration, appeared on NBC for 14 years, 7 months, and 3,770 telecasts (August 25, 1958–March 23, 1973), the longest run of any game show on that network (Wheel of Fortune was a month shy of tying that record when the initial NBC run ended on June 30, 1989). This series was hosted by Hugh Downs and later by Bob Clayton, but for a six-month period in 1969, Ed McMahon hosted the series. The series began at 11:30 AM Eastern, then moved to 11:00 and finally to 10:30. Nearly all episodes of the NBC daytime version were produced at 30 Rockefeller Plaza, New York City.
August 26, 1939
First televised Major League baseball game

on station W2XBS (the station that was to become WNBC-TV). Announcer Red Barber called the game between the Cincinnati Reds and the Brooklyn Dodgers at Ebbets Field in Brooklyn,

New York

.
At the time, television was still in its infancy. Regular programming did not yet exist, and very few people owned television sets--there were only about 400 in the New York area. Not until 1946 did regular network broadcasting catch on in the

United States

, and only in the mid-

1950s

did television sets become more common in the American household.
In 1939, the World's Fair--which was being held in New York--became the catalyst for the historic broadcast. The television was one of fair's prize exhibits, and organizers believed that the Dodgers-Reds doubleheader on August 26 was the perfect event to showcase America's grasp on the new technology.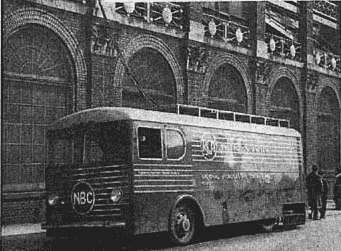 By today's standards, the video coverage was somewhat crude. There were only two stationary camera angles: The first was placed down the third base line to pick up infield throws to first, and the second was placed high above home plate to get an extensive view of the field. It was also difficult to capture fast-moving plays: Swinging bats looked like paper fans, and the ball was all but invisible during pitches and hits.
Nevertheless, the experiment was a success, driving interest in the development of television technology, particularly for sporting events. Though baseball owners were initially concerned that televising baseball would sap actual attendance, they soon warmed to the idea, and the possibilities for revenue generation that came with increased exposure of the game, including the sale of rights to air certain teams or games and television advertising.
Today, televised sports is a multi-billion dollar industry, with technology that gives viewers an astounding amount of visual and audio detail. Cameras are now so precise that they can capture the way a ball changes shape when struck by a bat, and athletes are wired to pick up field-level and sideline conversation.
August 27, 1964
Comedian Gracie Allen died.
Burns and Allen started performing a successful vaudeville act in the early 1920s and married in 1926. In 1932, they first appeared on the popular radio program The Guy Lombardo Show. Audiences loved Allen's gentle, ditzy character, and CBS launched a half-hour show, The Adventures of Gracie, in 1934. Renamed
The Burns and Allen Show in 1936, the radio show ran until 1950, achieving Top 10 ratings almost continually.
The pair launched a TV series that ran from 1950 to 1958, and they appeared in more than a dozen movies during their 35-year career together in what became one of the most successful and beloved comedy acts in history. Allen retired after a mild heart attack in 1958. After her death, Burns visited her grave once a month while continuing to work in TV, theater, nightclubs, and movies. He wrote many books, including Gracie: A Love Story, a tribute to his wife. Burns died in 1996 at the age of 100.
Tony Figueroa