I recently got to meet with Adam-Michael James author of
The Bewitched Continuum: The Ultimate Linear Guide to the Classic TV Series.
We got to explore the classic sitcom Bewitched and and talk about his book.
This is one of the best compilation books I have ever read. Each of the 254 episodes is summarized and broken down creatively into four parts named after one of the show's catchphrases: GOOD! WELL? OH, MY STARS!
and SON OF A GUN!
There is more to this show than a

beautiful

blond witch

twitching

her nose.
Tony - Before we get to the book, besides being an author, you are an actor, songwriter, and you
have done continuity. How would you define continuity?
AMJ - It's when a movie or television show establishes an event, or a rule, or a personality trait in a
character, and sticks to it – when that movie or show stays true to its own history. Or, if there's
a significant enough change, that a reason for that change is acknowledged on screen.
There's a strange sense of well-being you get from a show sticking to its continuity, though it's
almost subliminal. But the same is true when, say, first you're told a character's hometown is
one place and suddenly you're told it's somewhere else. It almost makes you feel uneasy, like
there's a disconnect.
Tony - How has it changed from the 1960s to today?
AMJ - Shows have to have good continuity now because it's so much easier for viewers to analyze
them. We tweet about them as they air and dissect them on social media, we watch them
over and over and pause them on DVD, Netflix, etc. In the '60s, an episode aired once,
maybe twice a year on a comparatively tiny 13" screen, and that was it. So you could bring in
a guest star as a new character, even though they just played someone else a couple of
months ago, or change a detail about a character and his world. Shows knew viewers
wouldn't retain stuff like that.
Tony - And now

you find an itemized list of a shows
continuity errors on the shows

Wikipedia page.
How does
continuity
fit in your book?
AMJ - I wanted to see what would happen if you lined up every Bewitched episode in order, kind of
exploring the show through today's lens. It's just a fun, different way of approaching the
series. And once you sift through eight seasons of information, it's interesting to see what
you're left with. Birthdays changed, particulars about the Stephenses' honeymoon changed,
Darrin's job description changed. Not to mention, the rules of witchcraft sometimes differed
from episode to episode. Again, it's important to remember that Bewitched, like most shows of
its day, didn't pay as much attention to this kind of continuity simply because it wasn't
necessary for them to.
Tony - What is your connection to the show?
AMJ - I saw my first episode when I was eight. This was 1977, so Bewitched was only broadcast in
syndication by then; in my case, it aired after school. I just fell in love with the show right
away. VCRs weren't around yet, so my dad suggested recording it on cassette by putting a
tape recorder in front of the TV speaker. Obviously there's a sense of nostalgia in my love for
the show, but watching Bewitched today, I think it really holds up. And I don't feel that way
about most other series I saw as a child!
Tony - The first time I saw your book I thought it was the size of the Los Angeles Yellow Pages. How
big is this book?
AMJ - Big enough that it covers every episode and includes a section with character bios, lists of
witch illnesses and clients, a Top 10 Best and Worst, and the series finale the show never
had. And all for only $29.99; operators are standing by. (laughs) I know; the first thing people
say about the book is how big it is. It's true, of course, but sometimes the observation ruffles
my feathers a bit. I mean, you can't write about eight seasons and have it come out the size of
a pamphlet, you know? Ironically, I originally wanted to call it Bewitched: The Big Book –
because in one episode, the apothecary says, "We'd better take a look in the biiiiig book." B
ut it was too generic a title. It was actually Herbie J Pilato (author of Bewitched Forever) – he
was my editor and consultant, an
d he wrote the foreword – he suggested calling it The
Bewitched Continuum; it hints at the linear aspect of the book, and of course references the
show's "atmospheric continuum." I was like, "Why didn't I think of that?"
Tony - Your book beautifully summarizes all 254 episodes of Bewitched. After each episode
summary you then have a compare-and-contrast section that is broken down into four parts.
Each part was named after one of the show's catchphrases: GOOD! WELL? OH, MY STARS!
and SON OF A GUN! How did you come up with the breakdown criteria?
AMJ - I knew right away I wanted to have a balance. It's all too easy to simply be negative and
critical, though I didn't want the book to just be a big Bewitched lovefest, either. I was looking
to sincerely give credit where credit is due – yet, if there was a funky story point or a special
effect gone awry, I wanted to be honest about it. The catchphrases practically suggested
themselves. And it turned out to be a perfect way to have two sections on the plus side and
two on the minus side, and in varying degrees.
Tony - Do you have a favorite episode?
AMJ - I have many favorite episodes, but the one that always stands out to me is "
Sisters at Heart
"
(#213), the 7th season Christmas episode. You remember: Tabitha and her African-American
friend Lisa wanted to be sisters so badly that Tabitha accidentally gave them pigmented polka
dots. At the same time, Darrin had a racist client, and Larry uncharacteristically called the guy
out. It just had a lot of heart, the magic was fun, and Erin Murphy really knew how to carry an
episode by then.
Bewitched S07 E13 - Sisters at Heart
by jomjulvid
Tony - That is a favorate of mine too.
I always saw the show as having an underlying message of tolerance towards mixed
marriages, using Samantha and Darrin's witch-mortal relationship as a metaphor for mixed
races. What do you see as the underlying message? What was the show trying to say?
AMJ - Well, "Sisters At Heart" (#213) was certainly the epitome of that message of tolerance,
something the show stood for all throughout the civil rights movement. I don't think it was
limited to race, either. Sexual orientation seemed to be part of that tone of inclusion, too, as
was freedom of religious beliefs, and the freedom to not have religious beliefs. In later years,
especially, I think some episodes were cautionary tales about the dangers of suppressing
yourself and your identity. Samantha often came down with witchy ailments solely because
she was denying her powers. And once she even told Darrin that forbidding Adam to use his
could be harmful. The message of being yourself is as potent as the messages of tolerance
and acceptance, and it all holds true today.
Tony -

Major cast changes often cause a show to
Jump the Shark
. How did the show manage to survive the cast changes?
AMJ - Like any other show, I suppose. Surely Bewitched wasn't the only series that went through
high-profile recasts, though back then it was probably more common among soap operas and
dramas than sitcoms. Dick Sargent replacing Dick York as Darrin is naturally the most
infamous and highly disputed cast change, but Louise, Gladys Kravitz, Darrin's father Frank –
they all saw new faces over the course of the series, too. I think the glue that held it all
together was that these roles were shared by very capable actors. Different styles, of course,
but that never took away from the consistent quality of the show.
Tony - I grew up with divorced parents. I would not see my home life depicted or represented on TV till I was about
ten years old. I always liked that Bewitched chose to present Samantha's parents as living
separate lives.
How would you describe the relationship between Endora and Maurice?
AMJ - I guess now we'd refer to it as an open marriage; the show only once concretely defined it as
"an informal marriage," in "Samantha's Good News" (#168). It was a bold, interesting step; I
don't know what made them decide to give Samantha's parents such an unconventional
relationship, but it certainly worked, not to mention it was all kinds of progressive for that time.
I know what you mean; there was divorce in my house, too. I'm pretty sure Bewitched helped
me through it!
Tony - I have had bosses like Larry Tate, someone who was your best friend one minute and then
changes his opinion to that of the client the next.
I imagine that everybody has or has had
neighbors like Gladys Kravitz. What other doses of reality were blended with the fantasy?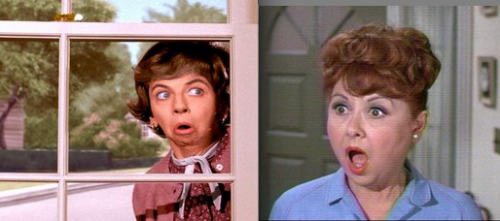 AMJ - The first thing that comes to mind is the "mortal drudgery" of Samantha's housework. I guess
you could count the run-of-the-mill duties of Darrin's job. There was the sibling rivalry Tabitha
experienced when Adam came along. And there was a lot of prejudice to go around, not just
from mortals against witches, but from witches against mortals – that's a true fantasy/reality
blend right there.
Tony - Let's talk about the use of alcohol on the show. Larry was a big drinker; Darrin may have
needed a drink before Samantha told him about her day. Having a bar in your office (like in
Mad Men)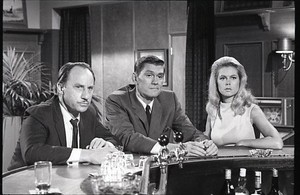 was the norm.
Then there was Dick Wilson, who was great as the drunk at the bar.
Do you ever think that the booze was overused to wrap up a story line or to explain the magic
that a mortal witnessed?
Bewitched S5 E19 - Samantha, The Sculptress
by jomjulvid
Bewitched S6 E21 - What Makes Darrin Run
by jomjulvid
AMJ - Oh, sure. Just two examples are "Samantha, the Sculptress" (#159), in which a boozy client
attributed talking statues to all the drinks he knocked back, and "What Makes Darrin Run"
(#191), where Samantha had McMann (the other half of
McMann & T
ate
appearance

) get drunker and drunker to keep him from giving Larry's job to Darrin. The "you
drank too much" humor/solution probably wouldn't fly today, but like you said, it's how TV
rolled then.
Tony - Who played drunk better: Dick York or Dick Sargent?
AMJ - Oh, wow. I don't think Dick Sargent's Darrin was ever seen drunk! I guess that makes Dick
York the winner by default. (laughs)
Bewitched S08 E21 - George Washington Zapped...
by jomjulvid
Tony - I love the episodes with historical figures; my favorite was George Washington. I liked that
Will Geer played him straight (not for laughs) and he played the legend of President
Washington. This was the Washington we were taught about in elementary school. Why do
you think the American Revolution figures worked so well on the show?
Bewitched S3 E13 - My Friend Ben
by jomjulvid
AMJ - Admittedly, Morning Glory Circle had visitors from other periods in history as well – Julius
Caesar, Queen Victoria, Leonardo da Vinci – but you're right that the George Washington
episodes, and the Benjamin Franklin episodes, stand out. To begin with, they're two-parters,
so they had twice the chance to make an impression. Maybe the real reason is, Franklin's visit
seemed to make statements about 1960s teens rejecting "the establishment," while
Washington's episodes highlighted free speech, the Vietnam war, and the growing apathy of
Americans. Both Fredd Wayne and Will Geer were phenomenal in those roles. I think the best
part of all Bewitched historical figure episodes is the anachronistic humor they provide.
Hearing da Vinci ask "What is a hippie?" and Queen Victoria yelp "Indians massacre
Chicago!" makes me smile every time.
Bewitched S3 E26 - Aunt Clara's Victoria Victory
by jomjulvid
Tony - Your book could be used as a textbook. What would be in the Syllabus for Bewitched 101?
AMJ - Now that's a class I'd be on time for! I have actually been told that The Bewitched Continuum
could serve as a case study for continuity in television – how to develop it and how to follow it.
I'm rather proud of that. I would like to emphasize that, by putting the show under a
magnifying glass, my intention isn't to be critical. Besides, the show's been off the air 43
years; can't do much about it now, right? (laughs) I guess another class unit could be
breaking down the rules of witchcraft in the Bewitched world. For the most part, those rules
varied based on the needs of a particular episode, but it's fun to compare them. At first a witch
could undo another witch's spell if she had the right words, then only the witch who cast a
spell could undo it. You couldn't use your powers in the past, then you could. And there was
this unspoken thing where sometimes a witch could put spells on another witch, which always
struck me as curious. We could definitely spread eight seasons over a school year!
Tony - What is the secret to the show's longevity?
AMJ - Well, there is that nostalgia aspect I spoke of earlier – a lot of us grew up on Bewitched, so
we like reliving those fond memories. But the show was well-written and well-acted. Even at
its campiest, it wasn't as much so as other comedies of the time, which is why I think
Bewitched
stood a head taller and why we remember it today. It's been in syndication ever
since – of course now it's on DVD – and lots of kids and young adults are being introduced to
the show and falling in love with it as much as we did. I hope that ultimately my book will help
keep Bewitched in the public's consciousness. And, of course, there's the magic, which is
captivating whether you're a kid or an adult. I think maybe the witchcraft on Bewitched
speaks to the magic that's in us all, whether we're aware of it or not, which is part of the pull. At least,
that's the effect it had on me.
The Bewitched Continuum: The Ultimate Linear Guide to the Classic TV Series

is a must have for

Bewitched

fan or any fan of classic television. My thanks to