I went to school to learn cars. But every school I went to, they had me drawing flowers for design. I don't want to draw flowers. For metal shop they had me making drainpipes and I don't want to make drainpipes. So I went over to Jones Brothers in Sacramento, alongside the railroad tracks, and I said, "I want to shape metal."  The guy threw out some fenders and showed me how to light the acetylene torch. I was self-taught. And it proved to be successful
George Barris

November 20, 1925 – November 5, 2015
Barris
was a designer and builder of many famous Hollywood
custom cars
, most notably the
Munster Koach
and 1966
Batmobile
.
He died today in his sleep at his home in
Los Angeles
,
California
, at the age of 89.
In the 1960s, the Barris firm became heavily involved in vehicle design for television production. At the beginning of the decade, Barris, who loved extravagant design, had purchased the
Lincoln Futura
, a
concept car
of the mid-1950s which had been built by
Ghia
of Italy. It remained in his collection for several years, until he was rather unexpectedly asked by
ABC Television
to create a signature vehicle for their
Batman
television series.
Time was very short, as filming would begin in a few weeks, leaving insufficient time for a new design from scratch. Instead, Barris decided the Futura was a perfect base on which to create the
Batmobile
. Barris hired custom builder Gene Cushenberry to modify the car, which was ready in three weeks. The show was a hit, and the car gained notoriety for Barris. He retained ownership of the Batmobile until an auction on January 19, 2013, when Barris sold it for $4,620,000.
George Barris was responsible for the frame of the original Batmobile and other famous customized automobiles he created for various celebrities. Barris created a customized gold
Rolls Royce
for actress
Zsa Zsa Gabor
. The golden Rolls Royce displayed the detailed work of Barris and included hand-etched window glass by Robb Rich showing butterflies, roses, and hummingbirds.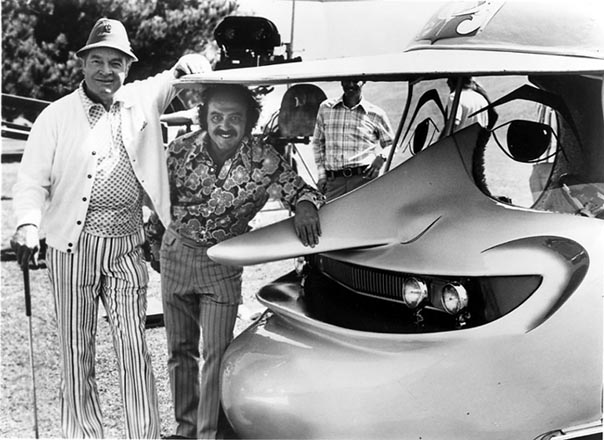 Between 2002 and 2006, Barris also designed two custom
Cadillac
hearses
for episodes of the cable television series
Monster Garage
. Barris' company often builds replicas of non-Barris designed vehicles from other TV series, including
The Monkees
(Monkeemobile),
Starsky and Hutch
(Ford Torino),
Power Rangers
(Rad-Bug, Turbo Vehicles, and SPD Cars), and
Knight Rider
(KITT). Also designed and built from a 1979 Ford Country Squire wagon, the Wagon Queen Family Truckster for the 1980 movie National Lampoon's Vacation with Chevy Chase.
This was created in 1969 as part of the popular Pink Panther Show.
I wish you Blue Sky, Green Lights and Peace
Stay Tuned
Tony Figueroa