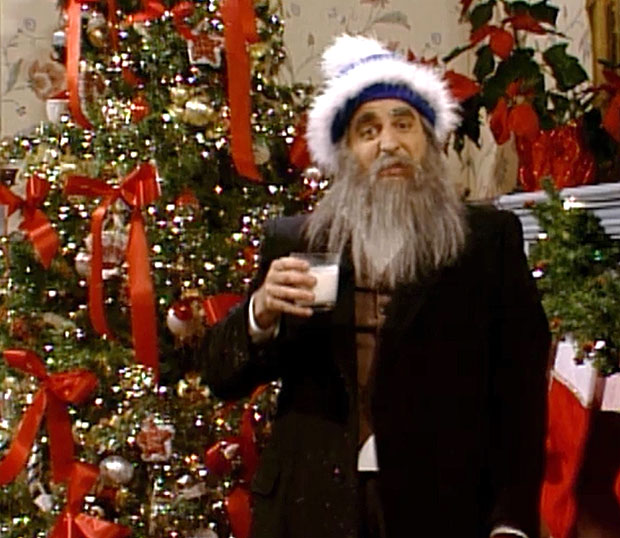 Here is a

"

HOLIDAY SOR-BAY

"

a

little spark of madness
that we could use to artificially maintain our Christmas spirit

and

Hanukkah

spirit.
Hanukkah Harry
is a
character
on
Saturday Night Live
played by
Jon Lovitz
.
Hanukkah Harry's first appearance on
SNL
was on Season 15: Episode 9, a show first broadcast on December 16, 1989, with guest host
Andie MacDowell
, in a sketch titled "The Night Hanukkah Harry Saved Christmas", that viewers are told is sponsored by
Hallmark Cards
in association with the Jewish
Anti-Defamation League
. It is Christmas Eve and Santa Claus (played by
Phil Hartman
), despite being nursed by
Mrs. Claus
(
Nora Dunn
), is severely ill. Unable to work due to his illness, Santa calls Hanukkah Harry (Jon Lovitz) at his workshop on
Mount Sinai
, asking if he could fill in to deliver toys to children around the globe. Hanukkah Harry agrees and flies through the air on a cart pulled by three donkeys, Moische, Herschel and Schlomo. Hanukkah Harry lands on a roof and climbs down the chimney of the home of Scott (
Mike Myers
) and Christine (
Victoria Jackson
), offering gifts of slacks and socks respectively, as well as chocolate coins and a
dreidel
. While the children are initially disappointed at their gifts, their realization that Hanukkah Harry had helped Santa, makes them recognize that "Christians and Jews, deep down, are pretty much the same. Maybe that's the true meaning of Christmas!" With that statement Santa's flu is cured, and Santa comes down the chimney bearing gifts of Barbie make-me-pretty for Christine and a pellet gun for Scott.
www.nbc.com/saturday.../video/hanukkah-harry/n985...

Dec 16, 1989









Stay Tuned and
Tony Figueroa