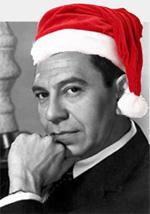 a

little spark of madness
that we could use to artificially maintain our Christmas spirit.
Detective series Dragnet appears on television for the first time, as a sneak preview on the anthology show Chesterfield Sound-Off Time. Dragnet had been a popular radio drama since 1949, created by actor-director Jack Webb (who starred in both the radio and the TV series as Sgt. Joe Friday). The TV show debuted as a regular series in January 1952 and ran until 1959.
This was a

Christmas

episode titled "The Big Little Jesus".





The episode

was

rema

d

e on

Dragnet 1967:

Season 2, Episode 15

"The Christmas Story"

and aired on December 21st

1967.
There are three cast members

from the original series

in addition to Jack Webb reprising their original roles.
While we are on the subject of Dragnet and Christmas, watch The Big .22 Rifle for Christmas

(First aired December, 18th 1952). The Story is as relevant today as it was then.
Stay Tuned
Tony Figueroa