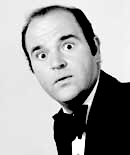 Actor-director-producer-chef
Dom DeLuise
died died peacefully in his sleep at the age of 75. The Golden Globe nominated star was well known for his roles in several Mel Brooks' classics, such as
Blazing Saddles
,
Spaceballs
and
Robin Hood
:
Men in Tights
and the
Twlve Chairs
. He was the husband of actress Carol Arthur, and the father of actor, writer, director
Peter DeLuise
, and actors
David DeLuise
and
Michael DeLuise
.
A frequent collaborator with DeLuise, Burt Reynolds released a statement to
Entertainment Tonight
on his friend's death.
"I was thinking the other day about this. As you get older you think about this more and more, I was dreading this moment. Dom always made everyone feel better when he was around. I never heard him say an unkind word about anyone. I will miss him very much,"

Burt Reynolds
TV producer
Greg Garrison
hired DeLuise to appear as a specialty act on the popular
Dean Martin
show
. DeLuise ran through his "Dominick the Great" routine, a riotous example of a magic act gone wrong, with host Martin as a bemused volunteer from the audience. The show went so well that DeLuise was soon a regular on Martin's program, participating in both songs and sketches. Garrison also featured DeLuise in his own hour-long comedy specials for
ABC
. (Martin was often just off-camera when these were taped, and his distinctive laugh can be heard loud and clear.)
An avid cook and author of several books on cooking, in recent years he appeared as a regular contributor to a syndicated
home improvement
radio show, On The House with The Carey Brothers, giving listeners tips on culinary topics. He also wrote several children's books you can find at
The Official Dom DeLuise Website
Here is my favorate Dom DeLuise Moment
To quote Mr.DeLuise, "I'm actually a thin, serious person, but I play fat and funny, but only for the movies".
Good Night Dom. Tonight there will be food and laughter in heaven.
Stay Tuned
Tony Figueroa