Listen to me on
TV CONFIDENTIAL with Ed Robertson and Frankie Montiforte
Broadcast LIVE everyevery other Monday at 10pm ET, 7pm PT on
Shokus Internet Radio
. The program will then be repeated Tuesday thru Sunday at the same time (10pm ET, 7pm PT) on Shokus Radio for the next two weeks, and then will be posted onlineat our archives page at
TVConfidential.net
.
As always, the further we go back in Hollywood history, the more that fact and legend become intertwined. It's hard to say where the truth really lies.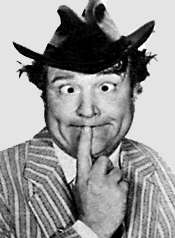 Richard Bernard "Red" Skelton
(
July 18
,
1913
–
September 17
,
1997
) was a comedian who was best known as a top
radio
and
television
star from 1937 to 1971. Skelton's show business career began in his teens as a
circus clown
and went on to
vaudeville
,
Broadway
,
films
, radio, TV,
night clubs
and
casinos
, while pursuing another career as a painter.
July 20, 1958

The last episode of the popular
Arthur Godfrey's Talent Scouts
airs, after nearly a decade on TV. The program, one of television's earliest amateur talent shows, was a breakthrough vehicle for stars including Rosemary Clooney, Pat Boone, Steve Lawrence, Connie Francis, and Patsy Cline. Elvis Presley flunked his audition for the show in 1955.
Apollo 11
was the first manned mission to land on the Moon. The first steps by humans on another planetary body were taken by Neil Armstrong and Buzz Aldrin on
July 20, 1969
. The astronauts also returned to Earth the first samples from another planetary body. Apollo 11 achieved its primary mission - to perform a manned lunar landing and return the mission safely to Earth - and paved the way for the Apollo lunar landing missions to follow.
Miss America 1984
Vanessa L. Williams
(The first black Miss America) ten months into her reign she received an anonymous phone call stating that nude photos of her taken by photographer Tom Chiapel prior to her pageant days had surfaced. Williams believed the photographs were private and had been destroyed. Days later,
Bob Guccione
, the publisher of
Penthouse
, announced that his magazine would publish the photos in their September 1984 issue, and paid Chiapel for the rights to them without Williams' consent. After days of media frenzy and sponsors threatening to pull out of the upcoming 1985 pageant, Williams felt pressured by Miss America Pageant officials to resign, and did so in a press conference on
July 23, 1984.
The title subsequently went to first-runner up, African-American
Suzette Charles
. In early September 1984, Williams filed a $500 million lawsuit against Chiapel and Guccione. According to a Williams family representative, she eventually dropped the suit to avoid further legal battles choosing to move on with her life. Williams is quoted as saying "the best revenge is success."
Although she resigned from fulfilling the duties of a current Miss America, she was allowed to keep the bejeweled crown and scholarship money and is officially recognized by the
Miss America Organization
today as "Miss America 1984" and
Suzette Charles
as "Miss America 1984b."
Jesse Donald "Don" Knotts
(July 21, 1924 – February 24, 2006) was the best known for his portrayal of
Barney Fife
on the 1960s television sitcom
The Andy Griffith Show
(a role which earned him five
Emmy Awards
), and as landlord
Ralph Furley
on the television
sitcom
Three's Company
in the 1980s.
Daniel "Dan" Hale Rowan
(
22 July
1922
–
22 September
1987
) He was featured in the television show
Rowan & Martin's Laugh-In
, where he played
straight man
to
Dick Martin
. Born on a
carnival
train near the small town of
Beggs, Oklahoma
, under the name of "Daniel Hale David", Rowan toured with his parents, Oscar and Nellie David, who performed a singing and dancing act with the carnival. He was orphaned at age 11, spent four traumatic years at the McClelland Home in
Pueblo, Colorado
, then was taken in by a foster family at age 16 and enrolled in
Central High School (Pueblo, Colorado)
. After graduating from high school, he hitchhiked to
Los Angeles, California
, in 1940 and found a job in the mailroom at
Paramount Pictures
; quickly ingratiating himself with studio head
Buddy DeSylva
, a year later he became Paramount's youngest staff writer.
Albert Brooks is born Albert Lawrence Einstein
on July 22, 1947. Actor, writer, director son of
Thelma Leeds
(
née
Goodman), a singer and actress, and
Harry Parke
(
né
Einstein), a radio comedian who performed on
Eddie Cantor
's radio program and was known as
Parkyarkarkus
. His brothers are comedic actor
Bob Einstein
, better known by his
stage name
"
Super Dave Osborne
" and Cliff Einstein, a partner and longtime chief creative officer at the Los Angeles ad agency Dailey & Associates and his half-brother was Charles Einstein (1926-2007), a writer who wrote for such shows as
Playhouse 90
and
Lou Grant
. Brooks started his own career in comedy by landing regular roles on variety shows in the late 1960s and gaining popularity on
Saturday Night Live
in the 1970s. Brooks' first film appearance was
Taxi Driver
(1976). He began screenwriting and directing in the 1980s, with films including
Lost in America
(1985),
Defending Your Life
(1991),
The Muse
(1999) and
Looking for Comedy in the Muslim World
(2005).
July 24, 1956
Dean Martin and Jerry Lewis perform their last comedy show together at New York's Copacabana Club.
Born Dino Paul Crocetti in Steubenville, Ohio, Martin started a nightclub act after working as a prizefighter and a steelworker in the 1940s. Lewis, the son of performers, debuted in comedy acts with his parents at age five and was working steadily as a comic by 1946, when he met Dean Martin. The pair performed an act in which screwball Lewis constantly interrupted straight man Martin's singing. They made their first appearance in 1946 at a club in Atlantic City and were an instant hit, soon in demand for radio and movie performances. The pair made 16 movies together, starting with
My Friend Irma
in 1949. By 1956, though, the pair decided to call it quits. After the duo split up, Martin launched his own TV variety show, which ran from 1965 to 1974. In the late 1950s and early 1960s, Martin teamed up with Frank Sinatra, Sammy Davis, Jr., Peter Lawford, and Joey Bishop to perform in Las Vegas. The group quickly became known as the Rat Pack, a suave group of young, fast-living entertainers. The group made several movies together in the early 1960s, including
Ocean's Eleven
(1960),
Sergeants Three
(1962), and
Robin and the Seven Hoods
. Martin died in 1995.
Lewis went on to sign one of the most lucrative film contracts of the day, a $10 million deal for 14 films with Paramount. Lewis' films, including
Cinderfella
(1960) and
The Nutty Professor
(1963), failed to attract much praise from American critics but made him a star in France, where he has long been considered a comic genius. After a long absence from film, he gave an acclaimed performance in the 1986 film
The King of Comedy
, co-starring Robert De Niro.
Norman Milton Lear
(born
July 27
,
1922
in
New Haven, Connecticut
)
TV
writer and
producer
who produced such
sitcoms
as
All in the Family
,
Sanford and Son
,
One Day at a Time
,
The Jeffersons
,
Good Times
and
Maude
.
July 27, 1940
Bugs Bunny first appears on the silver screen in
A Wild Hare
. The wisecracking rabbit had evolved through several earlier short films. As in many future installments of Bugs Bunny cartoons,
A Wild Hare
featured Bugs as the would-be dinner for frustrated hunter Elmer Fudd.
To quote the Bicentennial Minute, "And that's the way it was".
Stay Tuned
Tony Figueroa