Listen to me on
TV CONFIDENTIAL with Ed Robertson and Frankie Montiforte
Broadcast LIVE every other Monday at 10pm ET, 7pm PT on
Shokus Internet Radio
. The program will then be repeated Tuesday thru Sunday at the same time (10pm ET, 7pm PT) on Shokus Radio for the next two weeks, and then will be posted on line at our archives page at
TVConfidential.net
.

As always, the further we go back in Hollywood history, the more that fact and legend become intertwined. It's hard to say where the truth really lies.
October 1, 1927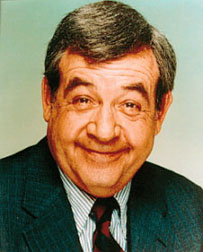 Thomas Edward Bosley is born.
Among his early television appearances was in 1962 as Assistant
District Attorney
Ryan in the episode "The Man Who Wanted to Die" on
James Whitmore
's
legal drama
The Law and Mr. Jones
on
ABC
.
Bosley's best known role is the character Howard Cunningham,
Richie Cunningham
's father, in the long-running
television
sitcom
Happy Days
. Bosley is also known for portraying
Sheriff
Amos
Tupper
on
Murder, She Wrote
. He also portrayed the titular Father Frank Dowling on the TV
mystery
series,
Father Dowling Mysteries
. In 2004, Bosley guest starred as a toy maker named Ben-Ami on the series finale of the
Christian
video series
K10C: Kids' Ten Commandments
. Among myriad television appearances, one notable early performance was in the "Eyes" segment of the 1969 pilot episode of
Rod Serling
's
Night Gallery
, directed by
Steven Spielberg
and starring
Joan Crawford
. In 2008, Bosley starred in the
Hallmark Channel
television movie
Charlie & Me
.
Also notable as a
voice actor
due to his resonant, fatherly yet expressive tone, Bosley hosted
The General Mills Radio Adventure Theater
, a 1977
radio drama
series for children. He went on to voice many
animated cartoon
characters, including Harry Boyle in the animated series
Wait Till Your Father Gets Home
. He provided the voice of the title character in the 1980s cartoon
The World of David the Gnome
, and the shop owner
Mr. Winkle
in the children's
Christmas special
The Tangerine Bear
. He also narrated the movie documentary series
That's Hollywood
. Additionally, he played the narrator
B.A.H. Humbug
in the
Rankin/Bass
animated
Christmas special
The Stingiest Man In Town
. Bosley was also the voice of Gepetto, Pinocchio's 'dad' in Filmation's
Pinocchio and the Emperor of the Night
, released in 1987.
October 1, 1955The Honeymooners debuts on CBS.
The TV comedy, which starred Jackie Gleason, enjoyed enduring popularity despite the fact that it aired only 39 episodes.
The show originated in 1951 as a sketch on Gleason's variety show
Cavalcade of Stars
. He continued the sketches when he launched a new program,
The Jackie Gleason Show
, in 1952. In these skits, Gleason played bus driver Ralph Kramden, and Audrey Meadows played his long-suffering wife, Alice, who deflated his get-rich-quick schemes but often saved the day. Art Carney played friend and sidekick Ed Norton, and Joyce Randolph played Ed's wife, Trixie.
In a departure from most TV shows at the time,
The Honeymooners
was filmed in front of a live audience and broadcast at a later date. To allow Gleason more time to pursue other producing projects, he taped two episodes a week, leaving him free for several months at the end of the season.
Unfortunately, the two shows did not do as well with audiences as Gleason had hoped, and only 39 episodes of the
The Honeymooners
aired. In 1956, Gleason returned to his hour-long variety format, occasionally including
Honeymooners
skits. In 1966, he began creating hour-long
Honeymooners
episodes, which he aired in lieu of his usual variety format. From 1966 to 1970, about half of Gleason's shows were these hour-long episodes. In 1971, the episodes were rebroadcast as their own series. On May 9, 1971, the final episode aired.
October 2, 1928
George Robert Phillips "Spanky" McFarland was born.
Most famous for his appearances in the
Our Gang
series of short-subject comedies of the 1930s and 1940s.
The Our Gang shorts were later popular after being syndicated to television as
The Little Rascals
. In 1952, at age 24, McFarland joined the U.S. Air Force. Upon his return to civilian life, indelibly
typecast
in the public's mind as "Spanky" from Our Gang, he found himself unable to find work in show business. He took less glamorous jobs, including work at a soft drink plant, a
hamburger
stand,
popsicle
factory, selling wine, operating a restaurant and night club, and selling appliances, electronics and furniture. In the late 1950s, when the
Our Gang
comedies were sweeping the nation on TV, McFarland hosted an afternoon children's show,
Spanky's Clubhouse
, on
KOTV
television in
Tulsa
,
Oklahoma
. The show included a studio audience and appearances by other celebrities such as
James Arness
, and it ran
Little Rascals
shorts.
Spanky loaned his name and celebrity to help raise money for charities, primarily by participating in golf tournaments. Spanky also had his own namesake charity golf classic for 16 years, held in
Marion
,
Indiana
.
McFarland continued to do personal appearances and cameo roles in films and television, including an appearance on
The Tonight Show starring Johnny Carson
. His final television performance was in 1993 in an introductory vignette at the beginning of the
Cheers
episode "Woody Gets An Election".
McFarland died suddenly of a
heart attack
on
June 30
,
1993
, at age 64. His remains were cremated shortly thereafter. In January 1994, "Spanky" joined fellow alumnus
Jackie Cooper
to become one of only two Our Gang members to receive a star on
Hollywood's Walk of Fame
.
October 1, 1958
Kraft Television Theater broadcasts its last episode.
The influential show had first appeared in 1947. Kraft had discovered the value of entertainment sponsorship back in 1933, when it launched the radio program
Kraft Music Hall
specifically to introduce Miracle Whip. The product took off and so did Kraft's media ventures.
Kraft Television Theater
featured televised comedies and dramas starring a different cast every week. The series' first production cost only $3,000, but by 1958 the network paid at least $100,000 per production. Jack Lemmon, James Dean, Grace Kelly, Anthony Perkins, and Paul Newman were among the stars that appeared on the program.
Keenan Wynn, Jack Palance and Ed Wynn"Requiem for a Heavyweight" - Playhouse 90, CBS, 10/11/56EMMY winner for Rod Serling
October 1, 1958

The first
TheTwilight Zone
episode
Where Is Everybody?
Aired.
Opening narration
"The place is here, the time is now, and the journey into the shadows that we're about to watch, could be our journey".
October 2, 1962
Johnny Carson starts his new job as host of The Tonight Show.

Carson started each show with a monologue and continued with sketches in which he played recurring characters "Carnac the Magnificent,". In 1965, Carson insisted on delivering his monologue at 11:30 instead of 11:15, the show's official starting time, because many stations ran news until 11:30 and didn't join The Tonight Show until the half hour. In 1967, Carson walked out over contract differences, returning several weeks later when the network allegedly offered him a contract worth more than $1 million a year-an exorbitant salary at that time. The show moved to Burbank in 1972. In March 1978, Carson received a contract reportedly worth $3 million. Frequent guest hosts included Joan Rivers, who became "permanent guest host" from 1983 to 1986, and Jay Leno, who became permanent guest host in 1987. David Letterman also served as guest host, appearing more than 50 times.
When Carson announced he would retire in 1992, a highly publicized battle for the job ensued between top contenders Jay Leno and David Letterman. When Letterman lost, he accepted CBS's offer for his own show and launched The Late Show with David Letterman in 1993. Carson died at the age of 79, in 2005.

October 4, 1949
The television series Life of Riley debuts, starring Jackie Gleason as bullheaded family man Chester Riley.

The show originated on the radio in the early 1940s and starred William Bendix. In 1953, Bendix took over the TV role from Gleason and stayed with the show until its cancellation in 1958.

October 4, 1957
Leave It to Beaver debuts.

The typical 1950s "wholesome family" comedy presented the life of the Cleaver family from the perspective of seven-year-old Theodore "Beaver" Cleaver.
The Cleaver clan included parents June and Ward, and older brother Wally. The show, which ran until 1963, enjoyed much popularity in reruns as well as a revival in the 1980s as The New Leave It to Beaver.

October 5, 1950
The game show You Bet Your Life, starring host Groucho Marx, airs its first TV episode.

The show had debuted on radio in 1947. Thanks to Marx's sarcastic humor and improvised wisecracks, the show became a hit first on radio and then on television. The show ran until 1961.
October 5, 1957
Bernard Jeffrey McCullough better known by his
stage name
Bernie Mac, was born on the
South Side
of
Chicago
.
Mac gained popularity as a
stand-up comedian
. He joined comedians
Steve Harvey
,
Cedric the Entertainer
, and
D.L. Hughley
as
The Original Kings of Comedy
.
After briefly hosting the
HBO
show
Midnight Mac
, Mac appeared in several films in smaller roles. His most noted film role was as Frank Catton in the remake
Ocean's Eleven
and the titular character of
Mr. 3000
. He was the star of
The Bernie Mac Show
, which ran from 2001-2006, earning him two
Emmy Award
nominations for Outstanding Lead Actor in a Comedy Series.
His other films included starring roles in
Friday
,
The Players Club
,
Head of State
,
Charlie's Angels: Full Throttle
,
Bad Santa
,
Guess Who
,
Pride
,
Soul Men
, and
Madagascar: Escape 2 Africa
.
Mac suffered from
sarcoidosis
, an inflammatory lung disease that produces tiny lumps of cells in the solid organs, but had said the condition was in remission in 2005. Despite having the disease, his death on August 9, 2008 was caused by complications from
pneumonia
.
To quote the Bicentennial Minute, "And that's the way it was".
Stay Tuned
Tony Figueroa