Listen to me on
TV CONFIDENTIAL with Ed Robertson and Frankie Montiforte
Broadcast LIVE every other Monday at 9pm ET, 6pm PT (immediately following STU'S SHOW) on
Shokus Internet Radio
. The program will then be repeated Tuesday thru Sunday at the same time (9pm ET, 6pm PT)on Shokus Radio for the next two weeks, and then will be posted on line at our archives page at
TVConfidential.net
. We are also on Share-a-Vision Radio (
KSAV.org
) Friday at 7pm PT and ET, either before or after the DUSTY RECORDS show, depending on where you live.
As always, the further we go back in Hollywood history, the more that fact and legend become intertwined. It's hard to say where the truth really lies.
April 14, 1956First video camera for sound and pictures demostrated.
The first videotape recorder is demonstrated. The machine, invented by Ray Dolby, Charles Ginsberg, and Charles Anderson, recorded both images and sound. CBS purchased three of the video tape recorders for $75,000 each in 1956.
April 15, 1948
Hollywood Screen Test debuts.
TV talent show
Hollywood Screen Test
debuts on this day in 1948. Unlike other talent shows, the program featured aspiring professionals, not pure amateurs, performing in drama and comedy sketches with established stars. Grace Kelly, Jack Klugman, and Jack Lemmon all got their big break on the show, which ran until 1953.
April 16, 1949
Garroway at Large debuts.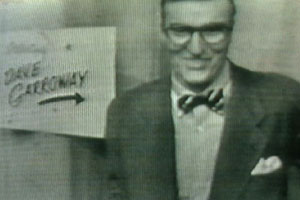 Radio personality Dave Garroway moves to TV, as the host of one of television's earliest musical-variety shows.
Garroway at Large
was one of the two most important series to be made in Chicago, along with
Kukla, Fran & Ollie
, during the city's brief period in the late 1940s as an important production center for network programs.
Garroway at Large
ran until 1951.
Dave Garroway started out as a page at NBC and worked his way up to the position of radio announcer for various NBC programs. From 1944 to 1948, he announced for the NBC radio series
The World's Great Novels
. The show featured dramatic readings of classic novels and later evolved into
NBC University of the Air
, which offered accredited radio-assisted degrees in literature. Garroway also hosted his own radio talk show with music, which aired under various names from 1946 to 1955.
Starting in 1952, Garroway became the longtime host of
NBC's Today show
. He continued some prime-time work, though, and when Garroway at Large ended, he tried another show, called
The Dave Garroway Show
, in 1953. The second show, however, didn't take off, partly because of stiff competition from the other networks, which were airing popular programs
Mama
and
Ozzie and Harriet
.
April 17, 1937Daffy Duck debuts.
Daffy Duck makes his debut in the Warner Bros. short
Porky's Duck Hunt
. In the 1920s, movie houses had started showing a short cartoon before feature presentations, but the form became more innovative and popular after sound was introduced in 1928.
April 18, 1929
First Our Gang film with sound Small Talk debuts .
Producer Hal Roach had started producing the
Our Gang
short comedies in 1922. The series' mischievous band of kids, later known as the
Little Rascals
, quickly caught on with the public, especially after characters Spanky, Alfalfa, and Darla were added in the early 1930s. In 1938, Roach sold the
Our Gang
rights to MGM, which produced the shorts until 1944. In total, more than 100
Our Gang
films were made.
To quote the Bicentennial Minute, "And that's the way it was".
Stay Tuned
Tony Figueroa