February 4, 1920 – June 12, 2016
Janet Waldo died today at the age of 96.
She appeared as Peggy, a teen smitten with Ricky Ricardo on a 1952 episode of
I Love Lucy
titled "The Young Fans" with
Richard Crenna
. Ten years later, Waldo again worked with
Lucille Ball
, this time playing Lucy Carmichael's sister, Marge, on
The Lucy Show
. That episode was titled "Lucy's Sister Pays A Visit". She also appeared on an episode of
The Andy Griffith Show
as Amanda.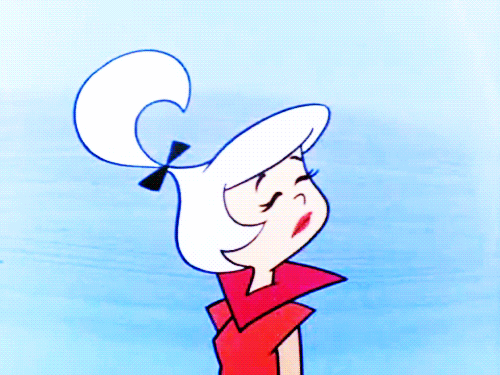 In television animation, she played
Judy Jetson
in all versions of the
Hanna-Barbera
television series
The Jetsons
. Waldo is the last surviving main cast member of the original
The Jetsons
series. In 1964–66, she took over the role of
Pearl Slaghoople
on
The Flintstones
, which was originally played by
Verna Felton
. Waldo reprised Mrs. Slaghoople on the Flintstones TV films
I Yabba-Dabba Do!
and
Hollyrock-a-Bye Baby
in the 1990s.
Further guest starring roles include Beth Crane, a descendant of
Ichabod Crane
, in the episode "The Headless Horseman of Halloween" from the
The Scooby-Doo Show
in 1976. She voiced
Morticia Addams
in the short-lived 1973 cartoon series adaptation of
The Addams Family
. Waldo was the voice of Princess and Susan in the English-language version of
Kagaku ninja tai Gatchaman
, known as
Battle of the Planets
, and
Hogatha
in
The Smurfs
.
Good Night
Ms. Waldo
Thanks for being part of my childhood.
Stay Tuned
Tony Figueroa