Actress, entrepreneur and philanthropist Jaclyn Smith will join us on this weekend's edition of TV CONFIDENTIAL, airing Jan. 19-22 at the following times and venues:
Share-a-Vision Radio
San Francisco Bay Area
Friday 1/19
7pm ET, 4pm PT
10pm ET, 7pm PT
Click on the Listen Live button at
KSAV.org
Use the TuneIn app on your smartphone and type in KSAV
Hear us on the
KSAV channel
on
CX Radio Brazil
Hear us on your cell phone or landline number by dialing 712-432-4235
Indiana Talks
Marion, IN
Saturday 1/20
8pm ET, 5pm PT
Sunday 1/21
10am ET, 7am PT
Click on the player at
IndianaTalks.com
or use the TuneIn app on your smartphone and type in Indiana Talks
WON 920 The Apple
Brooklyn, NY
Saturday 1/21
10pm ET, 7pm PT
Streaming at
www.920won.caster.fm
KSCO AM-1080 and FM-104.1
San Jose, Santa Cruz and Salinas, CA
KOMY AM-1340
La Selva Beach and Watsonville, CA
Sunday 1/21
9am ET, 6am PT
Also streaming at
KSCO.com
or use the TuneIn app on your smartphone and type in KSCO
CROC Radio
Kimberley, British Columbia, Canada
Sunday 1/21
1pm ET, 10am PT
Streaming at
CROCRadio.com
or use the TuneIn app on your smartphone and type in CROC
KHMB AM-1710
KHMV-LP 100.9 FM
Half Moon Bay, CA
Sunday 1/21
9pm PT
Monday 1/22
Midnight ET
Click on the Listen Live button at
KHMBRadio.com
RadioSlot.com
San Francisco, CA
Monday 1/22
10pm ET, 7pm PT
with replays Tuesday thru Friday at 10pm ET, 7pm PT
Click on the Talk Slot button at
RadioSlot.com
PWRNetwork
A member of the
Truli Media Group
Ann Arbor, MI ~ Boston, MA ~ Chicago, IL ~ Melrose, FL ~ Los Angeles, CA
Various times throughout the week
on
the Entertainment Channel
on
PWRNetwork.com
and the
PWR channel
on
TuneIn
Viewers around the world know
Jaclyn Smith
for her
many roles in such popular TV shows
, TV movies, films and miniseries as
The District, Christine Cromwell, Jacqueline Bouvier Kennedy, Rage of Angels, George Washington
and
Florence Nightingale
, not to mention her starring role as Kelly Garrett on the original
Charlie's Angels
. Eighty percent of women between the ages of thirty-five and sixty know Jaclyn for her
brand
of products, including her line of
clothing
, furnishings,
home products
and fabrics that are available at
Kmart
—and, more recently, her own
skincare products
and line of
wigs
.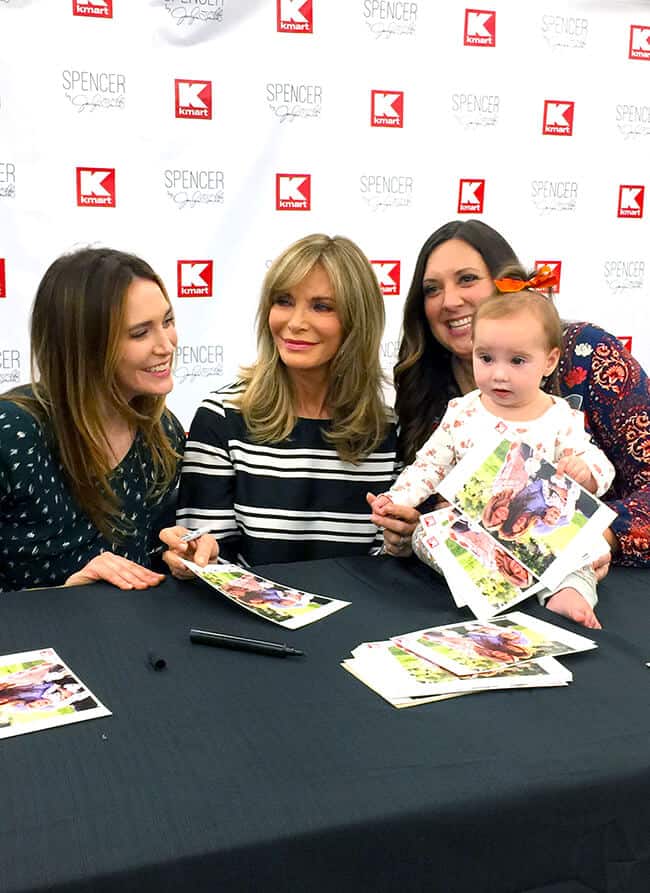 The first celebrity ever to develop her own brand, every product that Jaclyn has developed reflects her personal values, tastes or a part of her experience, while also meeting the needs of her customers. In fact, in many respects, you could say that Jaclyn's success in business comes down to her ability to listen—to her partners, her designers and, above all, her customers. That trait, listening, stems directly from her success as an actress.
We will ask Jaclyn how she came to build her brand, which now includes
the Spencer Layette collection
, a line of infant wear that she started with her daughter, Spencer (and which prominently features her granddaughter, Bea). We'll also talk to her about her career in film and television, plus we'll find out which team she rooted for in last year's World Series. Jaclyn Smith will join us in our second hour.
Jaclyn Smith recently launched a new line of
skincare products
(including a day cream and sun block), all of which were designed with anti-aging ingredients with retinol antioxidants and peptides. All seven products in the skincare collection were designed with the help of Jaclyn's husband,
Dr. Brad Allen
. To learn more about them, go to
JaclynSmithBeauty.com
. For more information on the Spencer Layette collection, as well as her upcoming new line of wigs, go to
JaclynSmith.com
.
Our first hour will include a brand new DVD report in which Greg Ehrbar looks at the releases of such Filmation titles as
She-Ra: Princess of Power
. Joining Greg this week will be our friend
Chris Korman
. Chris' stepfather, the late actor George diCenzo, provided voices for many Filmation series, including
She-Ra
. Plus: Tony Figueroa and Donna Allen will bring us This Week in TV History.
TV CONFIDENTIAL: A radio talk show about television
Fri 7pm ET and PT on
Share-a-Vision Radio, KSAV.org
and
CX Radio Brazil
Sat 8pm ET, 5pm PT and Sun 6pm ET, 3pm PT on
Indiana Talks
(Marion, IN)
Sat 10pm ET, 7pm PT on
WON 920 The Apple
(Brooklyn, NY)
Sun 9am ET, 6am PT
KSCO-AM 1080
(San Jose, Santa Cruz and Salinas, CA)
Sun 9am ET, 6am PT
KOMY-AM 1340
(La Selva Beach and Watsonville, CA)
Sun 1pm ET, 10am PT
CROC Radio
(British Columbia, Canada)
Sun 9pm PT, Mon Mid ET on
KHMB-AM and FM
(Half Moon Bay, CA)
Mon 10pm ET, 7pm PT on
The Radio Slot Network
(San Francisco, CA)
Replays various times throughout the week on
the Entertainment Channel
at
PWRNetwork
Tape us now, listen to us later, using
DAR.fm/tvconfidential
Also available as a podcast via
iTunes
,
FeedBurner
,
SoundCloud
and now on your mobile phone via
Stitcher.com
Follow us online at
www.tvconfidential.net
Follow us now on Twitter:
Twitter.com/tvconfidential
Like our Fan Page at
www.facebook.com/tvconfidential